Fortanix Expands Encryption Ecosystem with Next-Generation HSM | Press Releases
Self-Defending Key Management Service Provides Hardware-Level Protection for Access Management, Data-at-rest Encryption, Payments, and IoT Solutions.
MOUNTAIN VIEW, California, May 24, 2018
Fortanix® Inc., the leader in Runtime Encryption, today announced it has integrated its Self-Defending Key Management Service™ (SDKMS) with technology partners to offer Next-Generation Hardware Security Module (NGHSM) solutions for Access Management, Data-at-rest Encryption, Payments, and Internet of Things (IoT).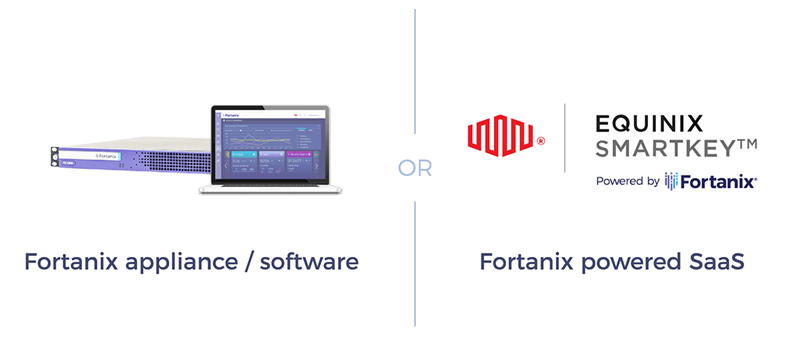 Fortanix's SDKMS leverages Runtime Encryption® and Intel® SGX to deliver security for encryption keys and cryptographic services with software-defined simplicity. The solution offers flexible consumption models; a hardened appliance; and a SaaS service Equinix SmartKey™, powered by Fortanix. The solution is uniquely architected to enable easy integration for new modern cloud applications, as well as existing applications with support for both RESTful APIs and traditional cryptographic interfaces including PKCS#11, JCE and CNG.
Encryption Ecosystem Partners
Enterprises can now implement SDKMS with a range of new interoperable security solutions, including:
Data-at-rest Encryption: The Zettaset software-defined XCrypt™ Data Encryption Platform has been designed from the ground up for high performance, scalability and ease-of-use in virtual and physical environments. Combined with Fortanix SDKMS, the joint offering provides a comprehensive encryption solution that ensures the security and integrity of sensitive data and enables organizations to meet regulatory compliance requirements.
Payments: GEOBRIDGE's KeyBRIDGE platform supports payments and technology manufacturers that realize the value of a centralized key management system that allows them to maintain their own proprietary key handling techniques, thereby eliminating the need for new development. Combined with SDKMS, the joint solution delivers root of trust and comprehensive audit logging to mitigate against insider threats or external attackers for sensitive transactions.
Key Orchestration: Fornetix Key Orchestration is an enterprise encryption key management solution that enables a unified approach to data security by deploying and enforcing encryption across an entire organization. The combined solution with SDKMS offers unprecedented key lifecycle management with unmatched security and privacy of keys with Runtime Encryption.
Secrets Management: Hashicorp Vault is a centralized secrets management tool. Vault Enterprise takes the features of the Open Source tool and adds additional features for organizations requiring more collaboration and governance capabilities. For organizations with strict regulatory requirements of their cryptography keys, or looking for PKCS#11 backend, Vault Enterprise now offers support for Fortanix SDKMS.
Joint solution briefs can be found here: Resources | Fortanix

Fortanix can deliver new HSM and Key Management solution integrations with unparalleled agility through a SaaS-based validation and a continuous integration process. Technology partners interested can sign-up here: Partners | Fortanix
Supporting Quotes
Partners:
"Fortanix is unique in delivering Runtime Encryption® to protect keys and data in use," said Zettaset CEO Jim Vogt. "Through this software-based integration, we can now offer joint customers enhanced security on Zettaset's encryption platform, whether on a physical disk or in a virtual data store."
"In payments security, encryption and digital keys are critical building blocks," said Laura Way, CEO, GEOBRIDGE Corporation. "Our integration with Fortanix is important because it combines GEOBRIDGE's payments cryptographic core competency with Fortanix's HSM security attributes to deliver unmatched privacy for encryption keys to our customers."
"We have integrated with Fortanix to deliver unmatched security and availability for encryption keys without compromise," said Megan Horner, Director of Marketing, Fornetix. "Now users are assured of the key orchestration benefits of Fornetix with security at scale offered by the Fortanix HSM solution."
"Fortanix delivers unified HSM and Key Management to help organizations securely adopt hybrid or multi-cloud environments," said Ambuj Kumar, CEO, Fortanix. "By collaborating with leading technology partners, Fortanix is providing customers with solutions that address stringent security requirements even amidst changing IT datacenter and cloud landscapes."
The Fortanix solution offers developer friendly APIs, easily accessible documentation and knowledge base on its website. Fortanix Runtime Encryption® Slack community is a valuable resource for developers and partners leveraging Intel® SGX or Fortanix solutions.
Fortanix will host a webinar May 30 to describe how the HSM and Key Management solutions help secure Cloud and IoT digital transformation. Those interested are encouraged to register at https://fortanix.com/company/news/events/2018/05/runtime-encryption-webinar.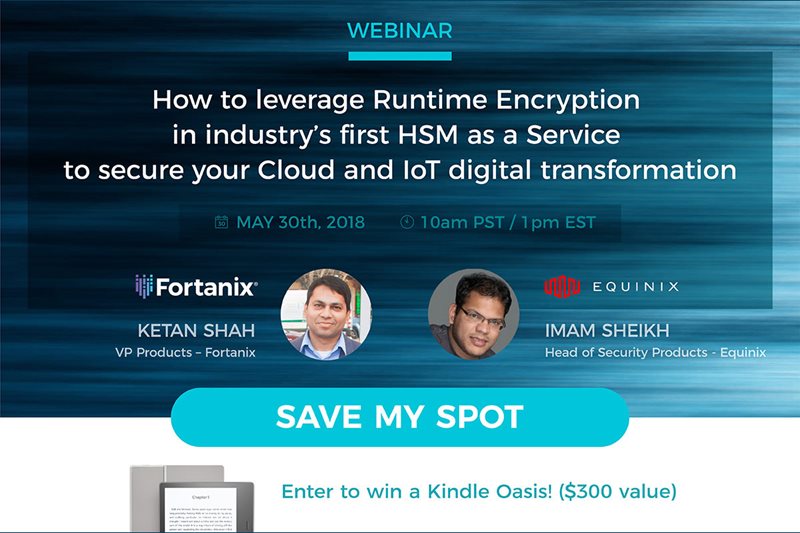 About Fortanix
Fortanix delivers provable deterministic security to organizations by offering the industry's only Runtime Encryption. It has been selected by leading partners, including to power Equinix SmartKey™ HSM-as-a-service. While today's encryption technologies protect only data at rest and data in motion, Runtime Encryption® keeps keys, data and applications completely protected while in use from external and internal threats, including insiders, cloud providers, government subpoena, OS-level attacks and network intruders. Fortanix is venture backed and headquartered in Mountain View, Calif.
Fortanix and Runtime Encryption are registered trademarks of Fortanix, Inc. Fortanix Data Security Manager is a trademark of Fortanix, Inc. All other marks and names mentioned herein may be trademarks of their respective companies.
FIPS 140-1 and FIPS 140-2 TM: A Certification Mark of NIST, which does not imply product endorsement by NIST, the U.S. or Canadian Governments
Share this post: