Overview
Healthcare organizations hold vast repositories of data. Ability to generate value entirely depends on how healthcare organizations can effectively unlock the power of data to innovate and deliver better health outcomes. With patient records being stored electronically, there is also increased threat of data breaches, malware, and other malicious attacks. Medical and patient records are used by multiple parties including hospitals for treatment, insurance providers for transactions and drug manufacturing companies for research. This means that the data is transmitted from different endpoints and across different networks with different levels of security. Protecting the healthcare data, securing this data for privacy preserving analytics and secure collaboration between different entities is critical.

Fortanix offers multiple solutions to cater to the data security needs of the Healthcare sector. Healthcare organizations can also use Fortanix Confidential Computing Manager to run applications and data within secure enclaves and use this data for multiparty analytics for better patient outcomes and find cure for diseases. Fortanix Data Security Manager (DSM) provides built-in HSM, Key Management and Tokenization capabilities with flexible consumption options. They can now secure data and keys regardless of where it resides.
Featured Resource
Whitepaper: Secure Healthcare AI with Confidential Computing
In this paper, we consider how AI can be adopted by healthcare organizations while ensuring compliance with the data privacy laws governing the use of protected healthcare information (PHI) sourced from multiple jurisdictions.
Learn More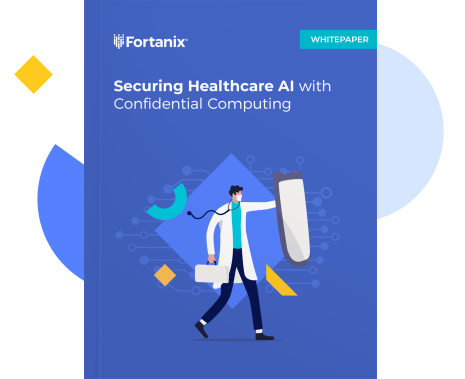 Benefits
Enable secure migration to cloud with single cloud ready solution for encryption
Fortanix manages encryption across on-premises, hybrid, and multiple public cloud environments, enabling customers to provide consistent data protection and migrate apps to any cloud environment. Healthcare organizations can now reduce the cost of complexity of data security by consolidating or replacing multiple encryptions, HSMs, key management, tokenization, and secrets management systems with a single integrated system with standardized cryptographic interfaces.
Apply Tokenization to achieve HIPAA and other regulatory compliance
Use Tokenization to comply with HIPAA regulations by substituting electronically protected health information (ePHI) and non-public personal information (NPPI) with a tokenized value.
Get complete control and visibility into sensitive health data
Centralized intuitive web-based user interface for management. Role-based access control (RBAC) for users, applications and groups with segregation of duties. Comprehensive tamper-proof audit logs to track all activity, including administration, authentication, access, and key operations.
Continuous protection for data and applications in use.
Confidential computing protects data and applications by running them in secure enclaves that isolate the data and code to prevent unauthorized access, even when the compute infrastructure is compromised. This can help healthcare organizations to keep the data protected always, even when in use, protect intellectual property and even use the data for multiparty analytics for better patient outcomes and treatment.
Use the scale of cloud without compromising security
Confidential computing powered by secure enclaves allows a variety of enterprise use cases to run on the cloud without compromising the security.

UCSF's Center for Digital Health Innovation (CDHI) is pleased to be collaborating with Fortanix, Intel, and Microsoft Azure to establish a confidential computing platform with privacy preserving analytics to accelerate the development and validation of clinical algorithms. The platform will provide a "zero trust" environment to protect both the intellectual property of an algorithm and the privacy of healthcare data. Using Fortanix Confidential Computing Manager for orchestration of Intel's SGX secure enclaves on Azure confidential computing infrastructure with Azure Kubernetes Service (AKS), and CDHI's proprietary BeeKeeperAI data access, transformation, and orchestration workflows, the platform will reduce the time and cost of developing clinical algorithms.
- Michael S. Blum, MD FACC,
Associate Vice Chancellor for Informatics and Chief Digital Transformation Officer, Executive Director, Center for Digital Health Innovation,
Professor of Medicine, Cardiology at the University of California, San Francisco