Fortanix SDKMS Protects Data in VMware vSAN and vSphere Environments with Unique Secure Enterprise-Wide Encryption
Fortanix Self-Defending Key Management Service Secures VMware Customers' Data in Cloud and On-Premise VMware Infrastructure with Secure Enclaves and Deterministic Security
SAN FRANCISCO, USA (VMworld 2019 Booth No. 356), August 26, 2019
Fortanix® Inc., the Runtime Encryption® company, today announced its Self-Defending Key Management Service™ now supports secure enterprise-wide encryption for VMware vSAN and vSphere environments, uniquely protecting VMware customers' private data in both cloud and on-premise VMware infrastructure.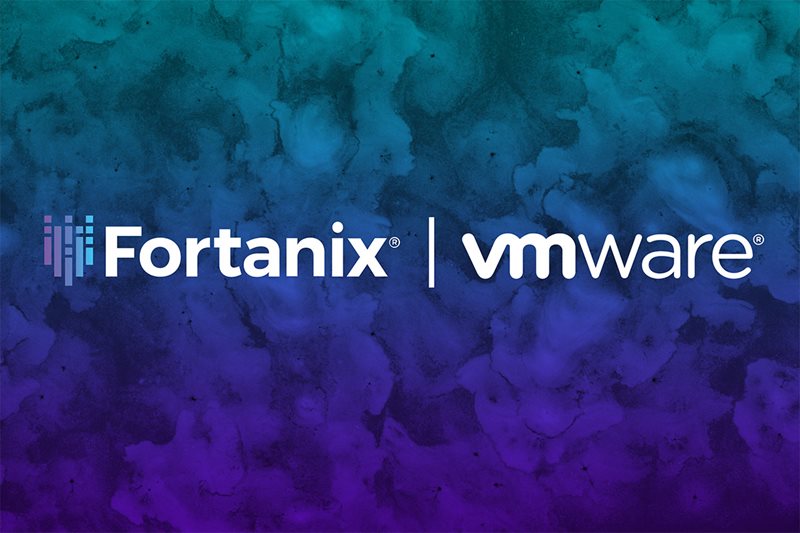 Fortanix SDKMS offers easy integration with vSphere virtual machine encryption and vSAN encryption to protect virtual machines and data at rest leveraging the KMIP Interface. This award-winning solution is being demonstrated in Fortanix' booth number 356 at VMworld 2019 in San Francisco this week.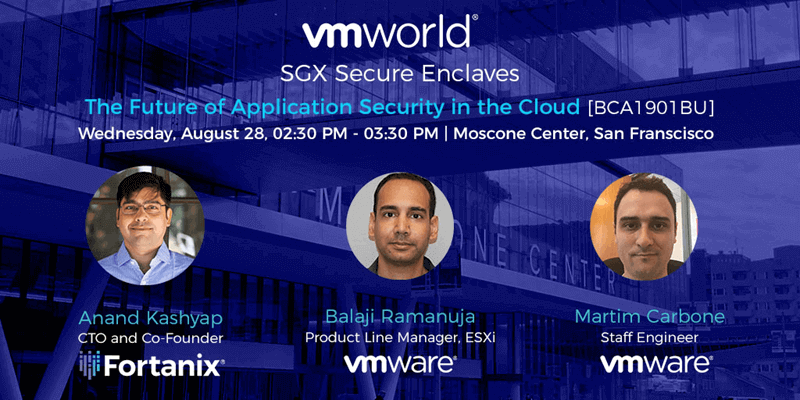 SDKMS delivers unified hardware security module (HSM) and key management capabilities with the operational simplicity of a single solution for VMware virtual machines. Secured with Fortanix Runtime Encryption and Intel Secure Guard Extensions (Intel® SGX) secure enclaves, SDKMS ensures users remain in complete control of their encryption keys and data secrets. Delivering deterministic security, encryption keys remain protected even if attackers have physical access or root credentials to the key management server. The solution delivers centralized management, and is offered as both easy-to-use dedicated appliances and SaaS.
"SDKMS is the only unified HSM and key management solution leveraging the power of Intel® SGX and secure enclaves that is now available for VMware customers," said Ambuj Kumar, Co-Founder and CEO of Fortanix. "Working with VMware enables us to deliver the unique encryption services and deterministic security from Fortanix to the wide vSAN and vSphere customer bases."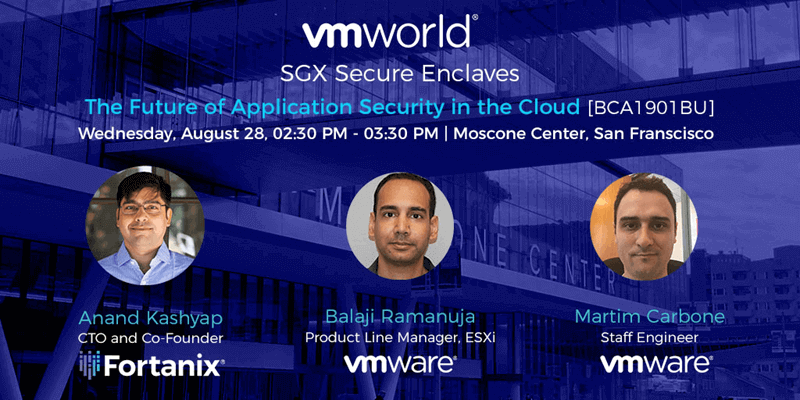 Further highlighting the joint work with VMware and the uniqueness of the Fortanix solution, VMware and Fortanix will participate in a joint session at VMworld titled "SGX Secure Enclaves: The Future of Application Security in the Cloud [BCA1901BU]" on Aug. 28 2019 at 2:30 pm PDT. In this session, VMware will discuss how Intel SGX changes the security landscape for applications running in the cloud, while Fortanix will present a real-world application of this feature and demonstrate its software running on the Intel SGX platform.
SDKMS delivers a transparent predictable consumption model similar to the utility-based consumption model prevalent in virtual and cloud environments. It works for small customers with Fortanix' multi-tenant SaaS from partner Equinix, and for large enterprises looking for a scalable solution across hybrid and multi-clouds. Fortanix SDKMS starts with supporting millions of keys and scales out horizontally or geographically as demand grows. As VMware continues to enhance the scale limits of compute and storage in a cluster, as well as the number of clusters that can be managed by vCenter, scalability of a secure key management solution is an important requirement for customers.
Fortanix is solving today's cloud security and data privacy problem. By decoupling security from the infrastructure, Fortanix removes complex and intractable security challenges experienced with current solutions. Running applications in protected enclaves enables a new level of deterministic security on premise, in hybrid environments, and even on remote clouds, protecting data even when systems are compromised. In 2018, Fortanix achieved VMware Ready status, validating Fortanix SDKMS earned VMware's highest level of endorsement and is supported on VMware vSphere 6.7 and vSAN 6.7 for production environments.
About Fortanix
Fortanix's mission is to solve cloud security and privacy challenges. Fortanix allows customers to securely operate even the most sensitive applications without having to trust the cloud. Fortanix provides unique deterministic security by encrypting applications and data everywhere – at rest, in motion, and in use with its Runtime Encryption® technology built upon Intel® SGX. Fortanix secures F100 customers worldwide and powers IBM Data Shield and Equinix SmartKey™ HSM-as-a-service. Fortanix is a venture backed Gartner Cool Vendor headquartered in Mountain View, Calif.
Fortanix and Runtime Encryption are registered trademarks of Fortanix, Inc. Fortanix Data Security Manager is a trademark of Fortanix, Inc. All other marks and names mentioned herein may be trademarks of their respective companies.
FIPS 140-1 and FIPS 140-2 TM: A Certification Mark of NIST, which does not imply product endorsement by NIST, the U.S. or Canadian Governments
Share this post: