Solutions for Zero Trust, Powered by Confidential Computing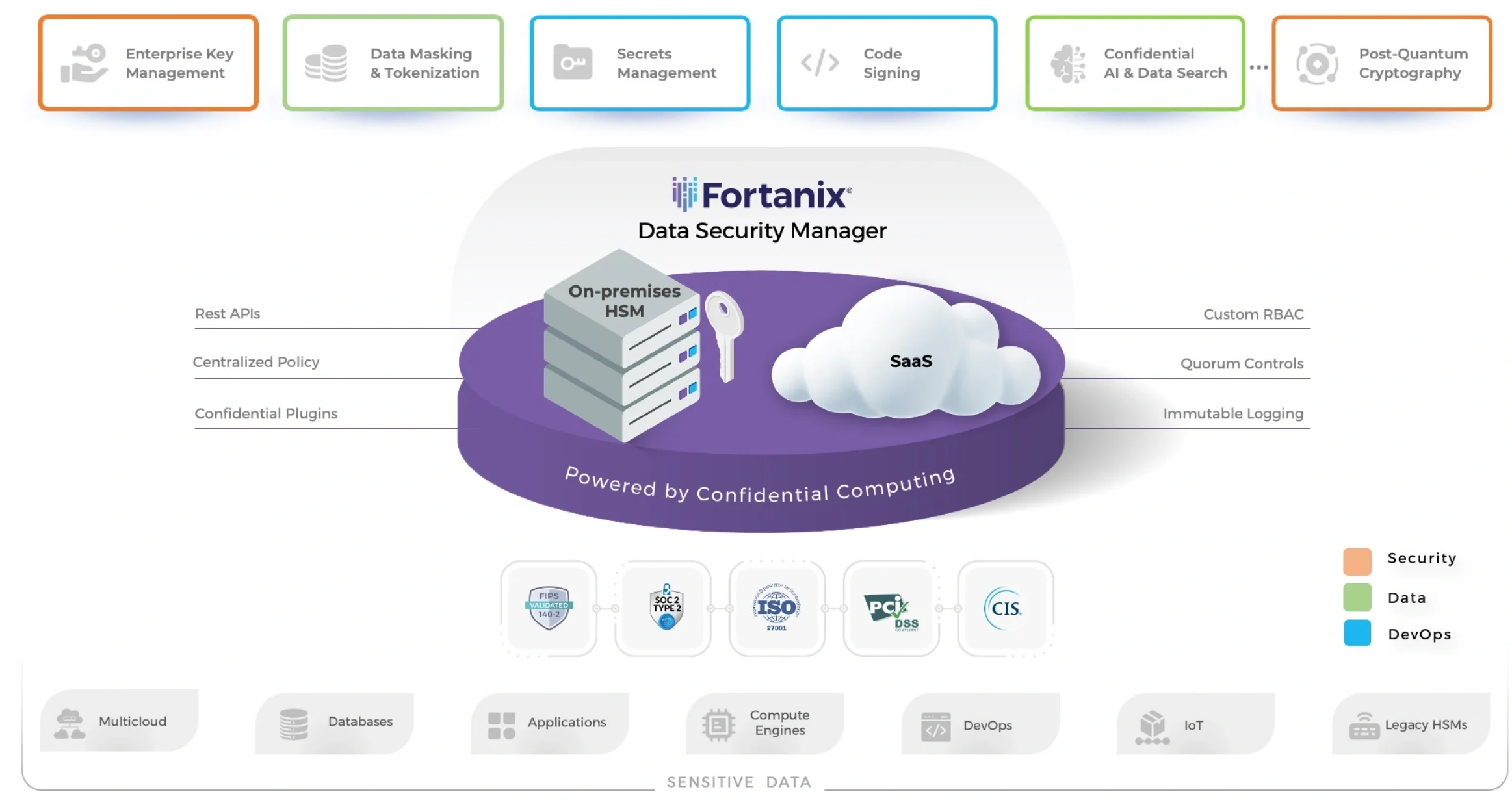 Advanced Solutions to Fortify Security and Accelerate Agility
Enterprise Key Management
Consolidate the management of cryptographic keys across the enterprise and securely store them with integrated Hardware Security Module (HSM) functions.
Data Masking and Tokenization
Tokenize sensitive data early and once to keep it private, portable, and compliant.
Secrets Management
Securely store, control, and manage secrets to "shiftleft" security
Code Signing
Manage cryptographic keys and certificates for leading code signing tools.
Confidential AI and Data Search
Use the power of confidential computing to secure sensitive data in AI models, and search for regulated data in encrypted databases at scale
Post-Quantum Cryptography
Rapidly prepare data security strategy for the effects of quantum computing
The Fortanix Differentiation
Confidential Computing
The industry's only unified data security platform that uses hardware-backed secure enclaves to protect data-in-use and ensure least-privileged access and control of encryption keys and data.
Highest Industry Certifications
Certifications include FIPS 140-2 Level 3, PCI-DSS, ISO 27001, CIS, and SOC-2 Type 2.
DSM Accelerator
Accelerate performance of latency-sensitive applications and support high-transaction volumes.
REST APIs and Confidential Plugins
OpenAPI 3.0 to automate secure development with over 125+ ecosystem integrations
HSM and HSM Gateway
FIPS 140-2 Level 3 HSMs to unify and manage end-to-end key lifecycle management and legacy HSMs
SaaS and On-Premises
Rapidly deploy a highly scalable SaaS solution, or opt for a physical or virtual appliance.
Policy-Based Enforcement
Enforce least-privilege data access with RBAC, Quorum Controls, and immutable logging.
Confidential AI
Unlock the power of securely unifying private data and AI models with Confidential Computing.
Accelerate Business Outcomes With Security at the Speed of Business
Trusted execution environments powered by Confidential Computing encrypt and secure data whatever its state: at rest, in motion and in use
Centralized key management with discovery, visibility, command control, policy enforcement and reporting empowers data, security and DevOps teams to increase productivity and business impact
Industry-leading Saas, advanced HSMs, and innovative security controls combine to deliver performance at scale while lowering total cost of ownership (TCO)