The Challenge
Organizations that have mature data security implementations are often stuck with legacy HSMs, which are complex to install, replace, and operate. Their origins go way back, and the archaic design has not seen much innovation from established vendors. These properties contradict the needs of modern organizations, which now expect flexible security solutions to support DevOps-driven automation initiatives. We are now in a cloud-first world, where SaaS solutions provide operational benefits such as seamless scalability, simple upgrade procedures, and ease of use.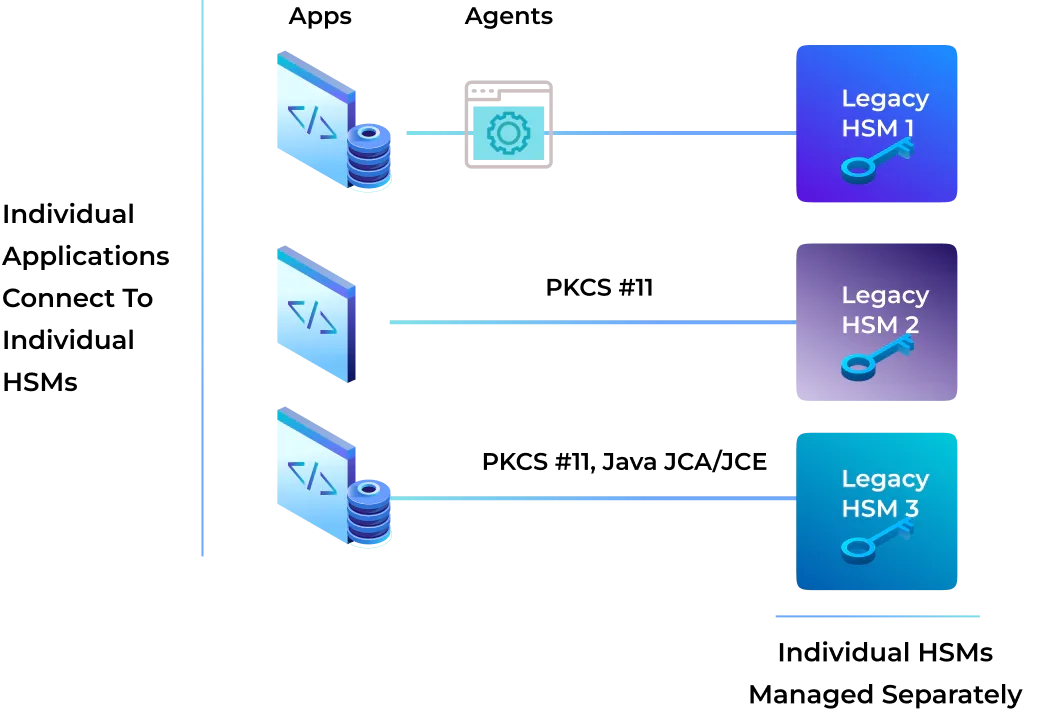 Fortanix Solution
Fortanix modernizes your HSM infrastructure by seamlessly consolidating your legacy HSMs and enabling secure key access for workloads anywhere; on-premises, or in the cloud.
With Fortanix DSM and the HSM gateway, your keys stay secure in your existing HSMs, while your encryption key infrastructure is ready to support cloud-first initiatives. The Fortanix DSM platform is available as a SaaS, so it can be deployed in minutes, versus months for legacy HSMs. With Fortanix, your organization is immediately ready to accelerate cloud initiatives, without the need to rip-and-replace the expensive legacy HSMs you've already invested in.
Fortanix HSMs are FIPS 140-2 level 3 validated and available as a service.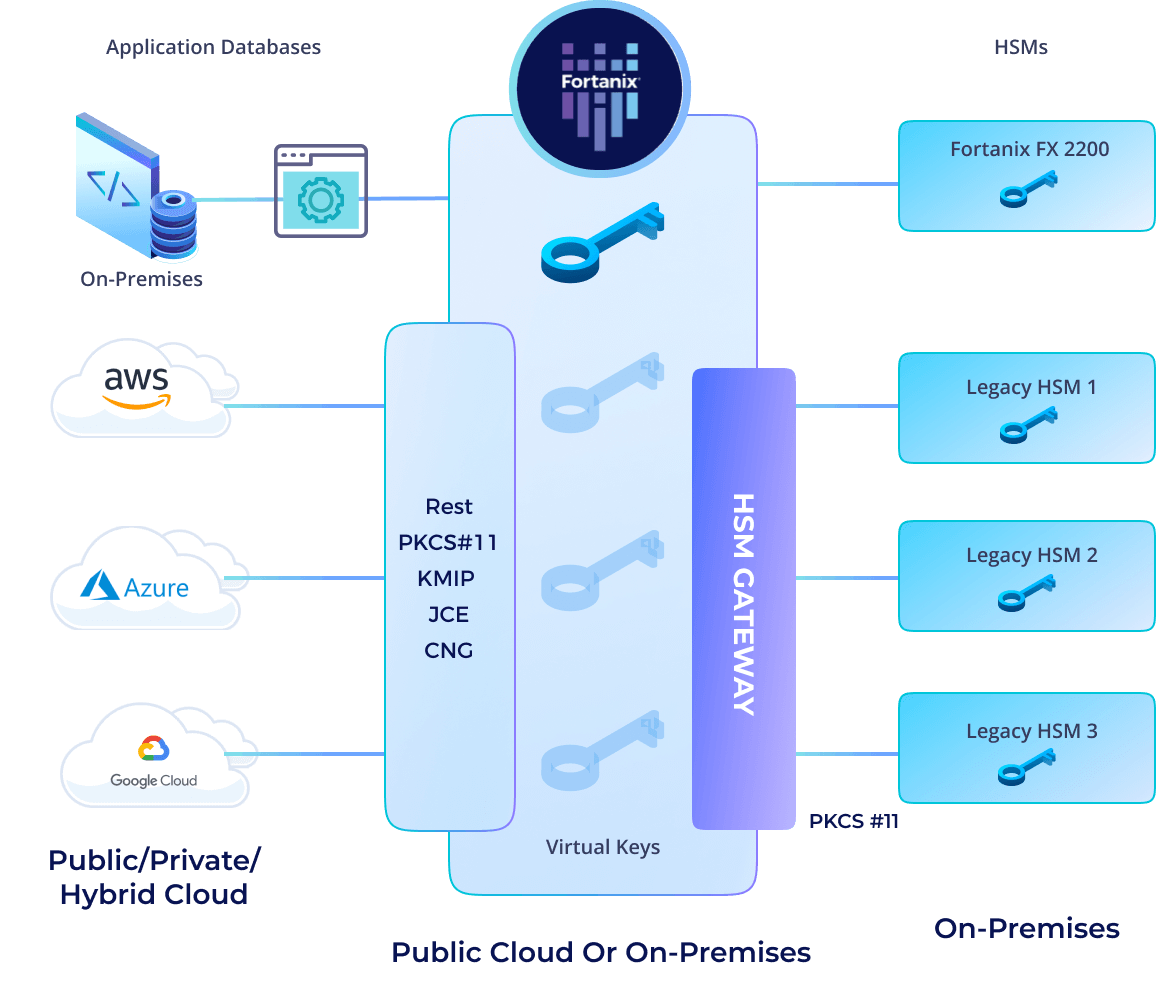 Benefits
Simplify Cryptographic Workflows
Fortanix simplifies operations with a centralized and intuitive user interface. The DSM platform provides additional functionality such as partitioning to your legacy HSMs, and increased granular control. Fortanix DSM is easy to integrate into existing environments, with support for modern DevOps environments (REST API) as well as established protocols such as KMIP, PKCS#11, and many more. All cryptographic operations are logged in detail and audited. 
Investment Protection And Cost Savings
If your organization is already invested in expensive, legacy HSMs, Fortanix HSM Gateway enables a seamless transition to a cloud-first world, without the need to rip and replace these existing HSMs. Fortanix reduces the cost and complexity of HSM infrastructure by consolidating all HSMs into a centralized, user-friendly, and cost-effective solution. 
Unified, top-grade data security 
The Fortanix DSM platform unifies data security solutions such as HSM services, a Key Management Service (KMS), tokenization, and secrets management. The service is FIPS 140-2 Level 3 validated and is supplemented by the power of Intel SGX technology to protect data in use. Organizations can separately store cloud encryption keys from their sensitive data, wherever that data resides. Fortanix complies with rigid security standards such as FIPS 140-2, ISO 27001:2013, PCI-DSS, CIS, and SOC 2 certifications.
Key Differentiators
Centralized management 
HSM gateway acts as a management layer for your legacy HSMs and enables a transition to Fortanix's innovative on-premises HSMs, or its industry-first HSM as-a-service. 
SaaS or on-premises deployment 
Choose the flexibility of a SaaS platform but you can also opt for a virtual machine deployment or FIPS 140-2 Level 3 physical appliance with built-in HA/DR with multi-cluster support.  
State-of-the art data security
The DSM platform is built on Confidential Computing technology and is FIPS-140-2 Level 3 validated for secure key storage. In addition, Fortanix offers a plethora of advanced security capabilities like Quorum approvals, plugins, Role-Based Access Control (RBAC) and much more. 
Resources
Here are some of latest news, blogs, resources, events, and more