Overview
Legacy HSM systems are hard to use and complex to manage. Moreover, they're tough to integrate with public cloud/hybrid infrastructures—requiring users to maintain separate solutions for on-premises applications and public cloud. Working with such outdated technology is a nightmare for the likes of application teams, database administrators, data analysts, and security administrators.

Fortanix provides an integrated FIPS 140-2 Level 3 certified HSMs—with the option to deploy them on-premises or leverage the industry's first HSM as a Service. The Fortanix HSM Gateway also facilitates centralized key and HSM management across 3rd party HSM and Cloud HSM.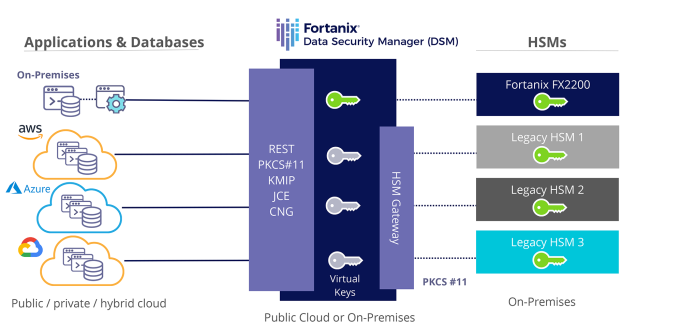 What We Do
Secured with Intel® SGX
Secured with Intel® SGX to ensure strict control over keys and data and access only to authorized users.
Unified API's and Services
Supports unified set of interfaces including REST, PKCS#11, KMIP, JCE and CNG.
FIPS 140-2 LEVEL 3 Compliant HSM
Certified to the rigorous FIPS 140-2 Level 3 cryptography standard.
Consolidated Audit Logging
Secure, comprehensive audit logs to help meet global regulatory compliance.
Unified Data Protection Platform
Integrated HSM, key management, secret management and tokenization from a single unified platform.
Scalable and Highly Available
Scale-out with linear and consistent performance. Highly available, always-on clustered design.
Features
| | Legacy HSM | | Software Solution |
| --- | --- | --- | --- |
| Physical Appliance Option | | | |
| FIPS 140-2 Level 3 | | | |
| Legacy HSM APIs | | | |
| Virtual Appliance Option | | | |
| Full Horizontal Scalibilty | | | |
| RESTful APIs | | | |
| Trusted Execution Environment | | | |
| Single Pane of Glass | | | |
| Unlimited Multi-Tenancy | | | |
Benefits
Lower TCO
Fortanix enables customers to reduce the cost and complexity of their HSM infrastructure by consolidating all HSMs into a single cost-effective solution. Over time customers can migrate keys and replace HSM hardware with a modern scalable solution.
Easy to Use Unified Platform
All crypto operations happen inside the secure enclave Fortanix Data Security Manager (DSM)
Migrate seamlessly to cloud
Fortanix HSM gateway enables businesses to seamlessly move between on-premises and public cloud infrastructures with a single consistent set of cryptographic services and keys.