The data driven world of finance
How financial firms handle, and store finances and data are a far cry from what it used to be about a decade back. For example, in today's competitive world banks need to be more data-driven than ever before. This is critical to acquire more customers and deliver the best experiences.
"Data-driven organizations are 23 times more likely to acquire customers, six times as likely to retain those customers, and 19 times as likely to be profitable as a result."
– Forbes
Becoming nimble, accelerating revenues, and improving customer experiences have been the primary drivers for financial firms to implement digital transformation projects. But increased adoption of cloud, IoT, mobile applications etc. has led to an exponential growth of data.
Financial firms today sit on a mountain of data that's not only constantly growing and but is also of the highest value. Its therefore not surprising why financial data is the most susceptible to cyberattacks.
Financial sector: The favorite playground of a hacker
Every cybercriminal out there seems to be picking on financial firms. As per the recent Verizon's 2020 Data Breach Investigations Report, the financial sector continues to be a favorite playground for hackers and cybercriminals. The data breaches in this sector are largely perpetrated by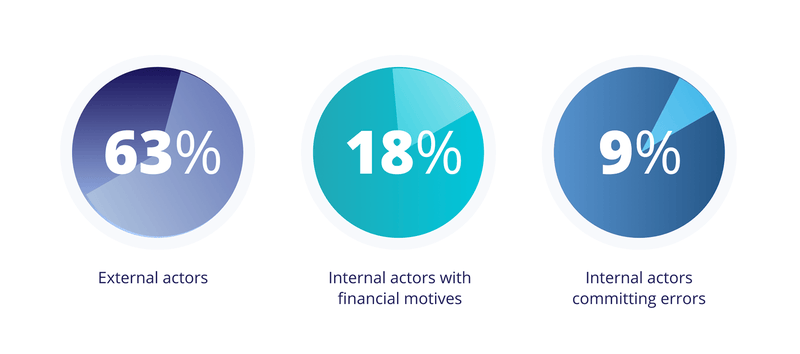 Of the 3,950 confirmed breaches reported, nearly 448 breaches are within the financial sector.
Another research report by BAE Systems Applied Intelligence, the cyber and intelligence arm of BAE Systems points out that 74% of financial institutions experienced significant rise in cybersecurity threats linked to COVID-19.

Quoting from the report, "A quarter of consumers also believe their Financial Institution (FIs) could do a lot more to protect them from cybercrime and over half now think it's the job of FIs to do so - more so than the government, the police or themselves."
With increasing incidents of data breaches being reported, the financial industry comes under more intensive scrutiny from government regulators and authorities concerned. They are subject to regulations that can drastically vary between countries and markets.
For example: there are regulations like PCI DSS for credit card data, GDPR for EU data across the globe, GLBA, SOX, and other different laws across the world. As these organizations scale, it is critical to ensure that the sensitive data is protected and meets these compliance requirements.
Snapshot of some important compliance regulations for financial services
Compliance Standard
What is it about?
What is required?
The Sarbanes-Oxley Act (SOX)
Passed in 2002, by the United States Congress, the

Sarbanes-Oxley Act (SOX)

was designed to improve the accuracy of corporate disclosures. Section 302 and 304 of the Act set standards for data protection.
-SOX does not specify any specific controls to protect the financial data, but encryption is mostly considered as the best practice.
Gramm-Leach-Bliley Act (GLBA)
The Gramm-Leach-Bliley Act

requires financial institutions that offer consumers financial products or services like loans, financial or investment advice, or insurance to explain their information-sharing practices to their customers and to safeguard sensitive data.
-Section 501(b) of the GLBA states that financial institutions must take the necessary measures to ensure the confidentiality and integrity of non-public customer information.
Payment Card Industry Data Security Standard (PCI DSS)
PCI DSS

defines the operational and technical requirements for organizations accepting or processing payment transactions, and for software developers and manufacturers of applications/devices used in those transactions.
Encryption and tokenization is one of the key requirements of PCI-DSS.
EU General Data Protection Regulation (GDPR)
The General Data Protection Regulation

(GDPR) is designed to provide better privacy and security to European citizens data and came into effect on May 25th, 2018.
Article 32 of the GDPR includes encryption as an example of an appropriate technical measure, depending on the nature and risks of your processing activities and is strongly encouraged.
According to Gartner, "Privacy and data breaches continue to be widespread due to lack of data security governance and operational frameworks for encryption."
Best practices for maintaining compliance and data security for financial organizations
Encryption key management or cryptography is often considered the most important security control to meet compliance standards. Here are the top five cryptographic practices that can help your financial firm comply with these regulations.
Here's a webinar that narrates the digital transformation journey of a world leading banking organization and the measures that were taken to navigate the complex world of compliance and data security.
And if your financial services firm is interested in implementing these practices to achieve compliance then reach out to us at sales@fortanix.com
Share this post: