Australian businesses are excelling in utilizing data for collaborative efforts. However, inadequate data security measures render the entire mission vulnerable to attackers. Australia has unfortunately become a hotbed for cyber-attacks.
The question arises: why are the current security measures insufficient? How can we strengthen the defenses?
Companies are moving to the Cloud. The existing security posture fails not because of its bad performance but more often because the legacy solutions deployed cannot perform in cloud infrastructure to prevent the onslaught of sophisticated attacks.
Australian companies have the potential to be at par with their global counterparts in safeguarding data because of their skilled workforce, resources, and access to implementation. However, they require assistance swiftly integrating robust cloud technology without disrupting their infrastructure and business operations.
This is precisely why we are here at the CISO Melbourne event, inviting security experts to test and verify our solutions, demonstrate our success stories, and be ready to answer queries concerning data control, privacy, and compliance.
Meet Fortanix at Booth Number 2
Here's Why
Fortanix has successfully served 150-plus enterprise customers globally.
We understand cloud infrastructure challenges, the shared responsibility model, organizations' responsibility, and their need to achieve full control of data and compliance.
At the booth, we will demonstrate solutions for the top three data security priorities of Australian companies.
Data Sovereignty

: Many businesses in Australia have to follow the country's privacy laws and the

Australian Privacy Principles

(APP). These rules apply when an organization sends or stores personal information in another country; it must treat it with the same level of protection as in Australia, for example, having a branch of its business in another country or when its data hosting provider is overseas.



The

organization

is always responsible for the personal information it handles and must be aware of the data located, the procedures to secure it, and if it complies with local laws. The

organization

might also consider removing any identifying information from the data before storing it in the cloud.





Regulatory Compliance:

Australian businesses must follow specific regulations that apply to their industry. These include the Notifiable Data Breaches (NDB) scheme, which requires reporting breaches, the Payment Card Industry Data Security Standard (PCI DSS) for handling credit card information, and the Health Records and Information Privacy Act (HRIPA) for healthcare providers.



The Cloud Computing Consumer Protocol (CCCP) ensures that consumers' data stored and processed by cloud service providers are protected and that consumers have clear rights regarding their data.

Australian organizations with a presence in the EU, such as branch offices, must adhere to the

GDPR

.



Achieving Full Data Control

: The Australian government has announced increased fines for privacy breaches [

source

]. This initiative comes as a response to the Office of the Australian Information Commissioner's heightened focus on investigations, made possible by increased penalties and budget allocations.



Businesses can significantly reduce the risk of legal repercussions by maintaining complete control over their data during data sharing, collaboration, and cloud migration. Effective enterprise

key management practices

are the most effective. They offer a centralized platform with a single pane of glass for crypto policy,

key lifecycle management

, and auditing/compliance. In addition, by storing the master encryption key in a highly secure

FIPS 140-2 compliant Hardware Security Module (HSM)

, businesses can ensure tamper-resistant protection against unauthorized access.
Discuss Our Solutions and Technology
Data security laws and challenges tend to be relatively similar worldwide, and our solutions powered by Confidential Computing have consistently proven effective in resolving these issues for our customers.

Meet our team for first-hand information, and sign up for free trials to learn about our solutions and technology.
| Confidential Computing | Tokenization | KMS and HSM as a Service |
| --- | --- | --- |
| Organizations can securely run applications within enclaves, ensuring the safety of their data even in the event of infrastructure compromise. | Tokenization simplifies payment processing by securely storing and transmitting tokens instead of actual payment card data, improving efficiency, reducing PCI-DSS requirements, and enhancing customer trust. | Companies can offload the burden of managing key management infrastructure, and physical HSMs, and reduce maintenance, upgrades, and compliance requirements costs. |
| This technology is especially significant in cloud computing environments, where multiple workloads from different customers coexist on shared infrastructure. | Organizations can comply with data protection regulations by reducing the scope of sensitive data storage. | As a Service also provides availability and scalability, allowing organizations to scale up cryptographic operations quickly with business expansion |
The Fun Part
We have more than security for people visiting our booth!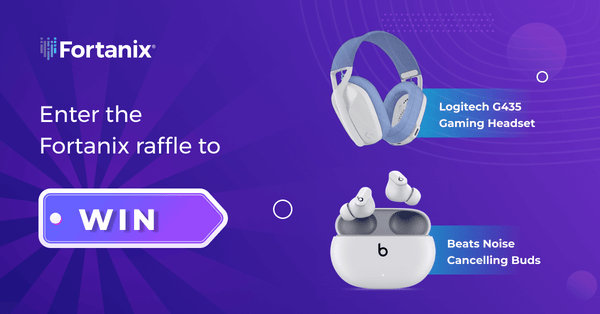 You can enter the Fortanix raffle to win a Logitech G435 Gaming Headset + Beats Noise Cancelling Buds!
All attendees visiting the Fortanix booth can enter the draw by scanning our promo QR Code. We'll randomly select a winner at the end of the conference and notify them before the event closes on day 2.
There's more!
Get a free copy of the "Confidential Computing for Dummies" book!
This is a comprehensive beginner's guide to understanding advanced cloud data security. Chapter 4 of the book is fantastic because it will walk you through the Confidential Computing Ecosystem, i.e., how this technology works for different industries. A CISO must-read!
Share this post: