In 1995, astronaut Chris Hadfield found himself locked outside a space station while orbiting approximately 200 miles above the Earth's surface at a speed of over 17,000 miles (about 27358.85 km) per hour.
Displaying remarkable ingenuity, Chris used a Swiss Army Knife to gain access to the Mir space station and safely re-enter it.
The point that I am trying to make? Having the right tool by your side can enable remarkable achievements.
Imagine a solution, akin to a Swiss Army Knife, specifically tailored for cloud data security solutions.
Ask the IT executives to list their woes when adopting public clouds, and security will unanimously claim the top spot. Certainly, having trust in a vendor's cloud data protection service is crucial to entrust them with your data confidently.
Will the data be kept confidential and private even during a legal inquiry?

Can we rely on the cloud vendor to ensure uninterrupted access to our data whenever we need it?

Will the integrity of the data be maintained at all times?
These are valid concerns, as the advantages of cloud computing can only be fully experienced if you are certain that you are collaborating with a vendor whose policies, resource allocation, and technology inspire trust and confidence.
Your Data: Their Infrastructure
A significant challenge with cloud security is that it hinges on a shared responsibility model. A set-up where cloud providers are responsible for securing their infrastructure, while the customer is responsible for the security of their assets within the cloud.
This is starkly different than the on-premises data center model, hence relying on traditional perimeter bound security measures will not suffice your cloud data security program.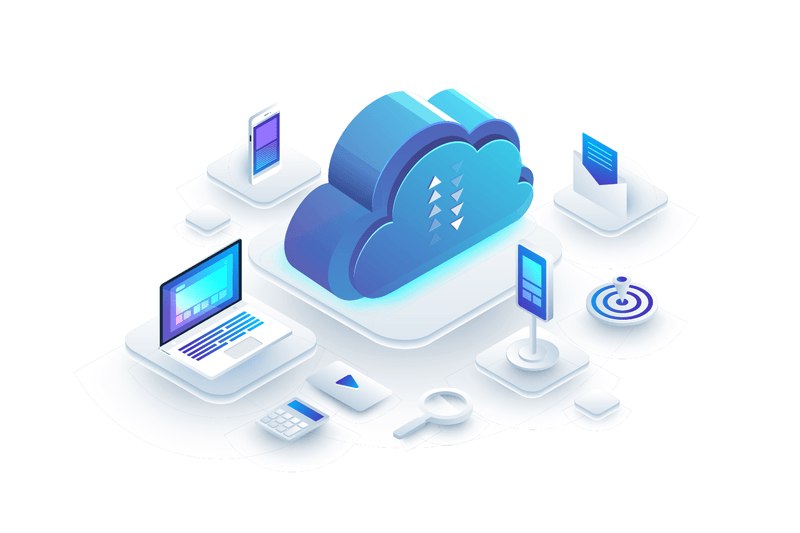 In fact, according to Gartner's prediction, by 2025, approximately 99% of all cloud security incidents [source] will be attributed to customer errors.
Bottomline—bolster up your cloud security features.
Here are five compelling cloud computing security features that should be essential additions to your cloud data protection solutions:
1. Cloud Data Encryption
When sharing sensitive data across users, cloud service providers (CSPs), and different parties, Encryption forms the holy grail of a robust cloud data security solution. By encrypting data prior to transmission or storing it in the cloud, organizations can guarantee that solely authorized parties possessing the necessary encryption keys can access and decode the data.
In addition, many regions and industries have specific data compliance requirements and protection regulations. Encryption is often a fundamental component of these requirements.
Encryption must be the number one contender on your list of cloud data security features.
2. Key Management
Encrypting data is only half the battle won, or shall I say—encryption is easy, key management is not.
To effectively handle cryptographic keys, storing and managing them within a cryptographic vault is vital. A vault is a secure tool for accessing and safeguarding "secrets." In the realm of encryption, a "secret" refers to any information that requires strict control over access, such as passwords, certificates stored within a hardware security module or API keys.
The importance of key management compounds when your data is spread across multi-cloud/ hybrid environments.
Imagine managing the encryption key lifecycle for your data stored with multiple CSPs. We are talking about managing the following stages of key management with multiple CSPs:
Key generation

Key registration

Key storage

Key distribution and installation

Key use

Key rotation

Key backup

Key recovery

Key revocation

Key suspension

Key destruction
You get the drift.
Furthermore, a robust Key Management System ensures regulatory compliance and mitigates potential risks that may come from privileged users. 
3. Native Integration into Cloud Management and Security Systems
As discussed earlier, cloud data security programs function on a shared responsibility model, which can get daunting with an ever-expanding ecosystem. It is essential to exercise caution, as this approach can lead to a convoluted array of technologies implemented across different cloud environments, each with its own set of security controls.
Integration capabilities between these security controls enable businesses to carefully navigate and streamline the security measures across multiple cloud platforms to maintain a cohesive and manageable security posture.
SaaS (Software as a Service) customers may also require a cloud access security broker (CASB) solution that integrates deeply with the SaaS service to identify risks and configuration issues specific to the SaaS in use.
4. Identity and Access Management (IAM)
As the C-Suite zero trust security model continues to gain traction amongst the C-Suite, many fail to recognize how without a solid foundation in IAM, the principles and effectiveness of the zero-trust approach cannot be fully realized.
With an array of legacy systems, multi-clouds, hybrid environments, mobile users, and remote workforces to deal with, businesses need identity processes implemented to automate access control and permissions—given 61% of all breaches involve credentials [source].
That said, identity is not a single tool, nor is it a single process or department—it is a new framework like incident detection and response.
An IAM framework enables organizations to handle the diverse needs of identity management holistically, given the sprawl of factors such as user authentication, authorization, provisioning, and access control across different systems and environments.
5. Data Discovery and Classification
MongoDB, the developer data platform, estimates that almost 80%-90% of the data companies gather is unstructured [source], making it challenging to discover and classify. A good chunk of this data is at risk of exposure via. public facing assets, such as APIs, which leaves it open to threat actors.
Even from a compliance standpoint, Data discovery is crucial as it enables organizations to recognize the nature of their data, its storage locations, and the individuals who can access it. 
Such information is crucial for adhering to data protection regulations and industry norms, which lay down specific data storage and management obligations.
Take the GDPR (General Data Protection Regulation) obligations, for instance, which mandates organizations to establish suitable technical and organizational safeguards to secure personal data. Through data discovery and classification, organizations can verify that they possess the requisite controls to fulfil these obligations effectively.
Likewise, other regulations and standards like the PCI DSS (Data Security Standard) and HIPAA (Health Insurance Portability & Accountability Act) impose specific prerequisites for safeguarding sensitive data. 
Data discovery is a crucial cloud computing security feature for ensuring compliance with such requirements since it assists organizations in identifying and categorizing sensitive data, enabling them to implement appropriate controls accordingly.
Parting Thoughts
Cloud computing security features can be confusing. Then there is the enormous compliance exposure. By the end of this year, 75% of the world's population [source] will have their personal data covered under privacy regulations. Hence, it is essential for business and security leaders to understand and implement the right data security solutions.
Is your business planning to invest in zero trust security? Do wish to understand what works best for your cloud security? Looking to speak to an expert? Our specialists would love to hear you out and assist you.
Looking for cloud security solutions but have budget constraints? Not sure where to start? Why not start with our explorer pack? Industry leading data security capabilities, free of cost.
Share this post: