IBM Cloud Data Shield with Fortanix Runtime Encryption Beta to Help Secure Containerized Applications
Enclave-Enabled Containers Leverage Runtime Encryption® and Intel® SGX for Data-in-Use Protection for IBM Cloud Users.
MOUNTAIN VIEW, California, February 27, 2019
Fortanix® Inc., the Runtime Encryption® technology company, today announced that IBM Cloud Data Shield is now available in beta using its Runtime Encryption® Platform on the IBM Cloud. The solution was developed in collaboration with IBM and is available in beta for container workloads running on the IBM Cloud Kubernetes Service.
IBM Cloud Data Shield, powered by Fortanix's Runtime Encryption® Platform with Intel® Software Guard Extensions (Intel® SGX) technology, offers data-in-use protection for applications. With Runtime Encryption, organizations can run data-centric workloads with security in the cloud and take advantage of the scale that the cloud provides. Common use cases include securing data-centric workloads such as blockchain, databases, AI/machine learning and analytics.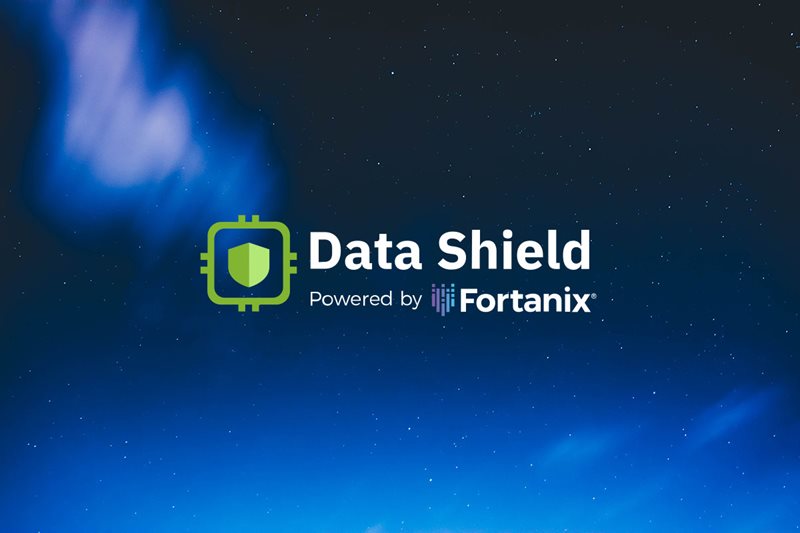 "Talium utilizes Fortanix and IBM Cloud to develop secure blockchain solutions," said Julien Brodier, CTO, Talium. "IBM Cloud Data Shield and Fortanix Runtime Encryption have accelerated our ability to create a secure scalable solution comprising of a three-tier web application for a blockchain-based energy marketplace using Stellar."
"Businesses are in the early phases of the cloud journey and as they enter the next chapter, they need an open, hybrid approach that enables them to develop, deploy and run apps securely in multicloud environments," said Nataraj Nagaratnam, CTO for Cloud Security, IBM. "IBM Cloud Data Shield with Fortanix Runtime Encryption and Intel SGX is designed to make it easy for developers to protect data in use without having to change their application code."
IBM Cloud Data Shield users can benefit from an "as a service" experience of encrypted enclaves enabled by Intel® Software Guard Extension (Intel® SGX) available across IBM Cloud regions with Fortanix Runtime Encryption integrated with the IBM Cloud Kubernetes Service.
The solution accelerates the protection of containerized applications without requiring application modifications and automates deployment inside encrypted enclaves.
"We are proud of our work with IBM and Intel to deliver IBM Cloud Data Shield," said Ambuj Kumar, Fortanix CEO and co-founder. "We have combined our Runtime Encryption® innovation, featuring hardware-enhanced security through Intel® SGX, with IBM's leading cloud platform and services to deliver unique capabilities for security and privacy in the cloud. With IBM, the Fortanix solution is now easily available in beta to a broader market."
"Deploying enhanced security capabilities in the Cloud is becoming increasingly important for our enterprise customers," said Window Snyder, Chief Security Software Officer and Vice President of the Platform Security Division, Intel. "The ability to create encrypted enclaves with Intel® SGX, now integrated into Fortanix's Runtime Encryption® platform running on IBM Cloud Data Shield, can help manage the growing volume of data-centric workloads."
As a result of this collaboration, IBM Cloud customers can look forward to the following in beta:
Fortanix EnclaveOS™: Hardware abstraction layer that helps enable unmodified applications to be run with Runtime Encryption. Containerized applications can be protected with a one-step protection process that can be automated with CI/CD process.

Enclave Manager™: An orchestration service that is designed to allow applications running in enclaves to help establish trust and provides comprehensive visibility for compliance.
Pre-configured Protected Applications: Secured enclave enabled containers for MySQL Database (view demo), NGINX web server, keys and secrets management, and directory servers.
About Fortanix
Fortanix's mission is to solve cloud security and privacy challenges. Fortanix allows customers to securely operate even the most sensitive applications without having to trust the cloud. Fortanix provides unique deterministic security by encrypting applications and data everywhere – at rest, in motion, and in use with its Runtime Encryption® technology built upon Intel® SGX. Fortanix secures F100 customers worldwide and powers IBM Data Shield and Equinix SmartKey™ HSM-as-a-service. Fortanix is a venture backed Gartner Cool Vendor headquartered in Mountain View, Calif.
Fortanix and Runtime Encryption are registered trademarks of Fortanix, Inc. Fortanix Data Security Manager is a trademark of Fortanix, Inc. All other marks and names mentioned herein may be trademarks of their respective companies.
FIPS 140-1 and FIPS 140-2 TM: A Certification Mark of NIST, which does not imply product endorsement by NIST, the U.S. or Canadian Governments
Share this post: