I'm deeply honored and excited to take on the baton of CEO from my co-founder Ambuj Kumar, who is stepping down after over six years at the helm for some well-deserved time off.
I would like to thank Ambuj for his leadership, vision, and partnership for the many milestones we accomplished over the greater part of the past decade.
Together, along with the talented and passionate employees at Fortanix, we have been able to convert an idea conceived by two people paddling in a canoe, into a veritable rocket ship that is experiencing stellar growth.
My wife Aarathi jokingly says that Fortanix is our third child. There is no doubt about it! I'm incredibly proud of how the company has grown, and the passion I have for making this company successful is no less than that of seeing our children succeed. In other words, I am "all-in"!
The journey so far has been amazing. We've run a marathon, but it appears like a sprint. Along the way, more runners have joined our team, as we've crossed new milestones and climbed new peaks every quarter and each year.
I'm immensely grateful to all our investors and board members who believed in Ambuj and me, and our vision for Fortanix, as they enabled this stellar journey.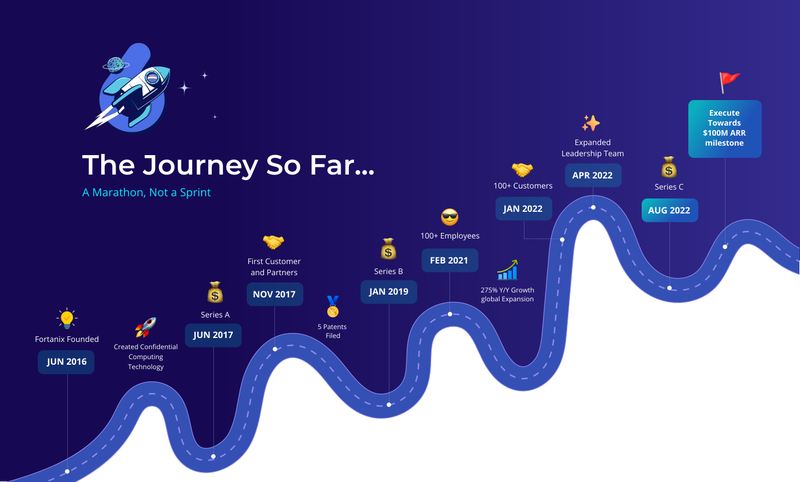 Fortanix enjoyed tremendous organic growth despite the pandemic. Our focus on data security ensured that we are positioned extremely well to take advantage of the market conditions in the years ahead.
As we cap off 2022, I'm particularly proud of where the company is right now –
We are very well-capitalized with a strong balance sheet, aided by the recent Series-C raise of $90 million that gives us a multi-year runway to execute.
We've built a world-class team of 225+ employees that has nearly tripled since the onset of the pandemic.
Our C-level leadership is best in class. We were able to attract our new CRO, CMO, as well as head of legal earlier this year. They complement our previously existing leadership very well and all this represents a strong bench for the company.
The company has won amazing customers. Over 125 enterprise customers trust us with securing their data globally, including some of the world's top banks and financial services institutions, technology, retail, and manufacturing companies as well as several federal and state government agencies. Many of these customers have given strong endorsements.
The product-market fit and innovation velocity have been stellar, allowing us to offer highly differentiated solutions in the market.
We've become the category leader in Confidential Computing after pioneering that area, with a highly differentiated technology that is backed by our 25+ patents.
Our alliance and channel partners have grown during this time. Our industry-leading platform—the Data Security Manager (DSM)—now supports 100+ integrations that make solutions easy to consume.
We were recently named in CRN's "Ten Hottest Startups of 2022" list, which caps several awards over the years.
The platform has consistently received 5-star ratings through Gartner Peer Reviews.
We've pioneered and led the category of confidential computing that is now picking up significant industry momentum. Complying with data privacy and security regulations is top of mind for companies of all sizes, and we have built a unique offering that is like nothing else in the market today.
Our innovation velocity has translated into business velocity, as we've introduced new products, penetrated new segments, and have become the go-to company for a variety of use cases that allow us to bring quick value to our customers.
I believe we have collectively built a strong foundation for the company to grow into its next stage.
Transitioning from a CTO to a CEO
As a co-founder and CTO of the company, I wore multiple hats: engineering, technology, sales engineering, and even IT. In this startup environment, I have been fortunate to have a ring-side view of both the technology as well as the business side from day 1.
I have also immensely enjoyed being at the intersection of people, engineering, and technology (PET). This experience will be invaluable and will make the transition infinitely easier.
My unique role in the company has helped me to build relationships with several of our customers from the early stages that have grown along with us.
As we have grown, I take pleasure in the world-class engineering team we have built across three continents! Some of our earliest engineers like Jethro Beekman and Faisal Faruqui have been with us since the early days and are spearheading teams at scale.
I'm particularly proud of the team that has built an industry-leading platform like the Data Security Manager (DSM) that scales to billions of transactions every month!
We provided consistent on-premises solutions, as well as an industry-leading software-as-a-service (SaaS) offering. Our customers are giving us five-star reviews for our "Enterprise Grade Security Product" and "Quality Product with Excellent Customer Service".
I never took these kudos for granted as a CTO and will never do so as a CEO. Every day, we will commit to earning the trust of our customers.
These accomplishments have not been in a vacuum. They are a tribute to our employees who have worked around the clock relentlessly, navigating forward with our customers as our true north.
The Next Phase - Startup to Scaleup – Setting the Stage for Purposeful Growth
While we have been fortunate as a high-growth startup, the next phase of Fortanix's evolution will be to scale up. I aim for purposeful growth in servicing our customers and delivering compelling value.
It should not be "growth at all costs", nor should investment toward growth be lip service. This is a period of maturity for the company, where we professionalize our functions and build repeatability as well as predictability at scale to set the foundation for accelerating growth.
Clearly, this will require a multi-dimensional approach. However, in scaling up there are three areas of immediate priority for me -
Scale growth predictably
Scale the Fortanix brand
Scale culture aligned with our values
To me, all three are intertwined.
Priorities - Startup to Scaleup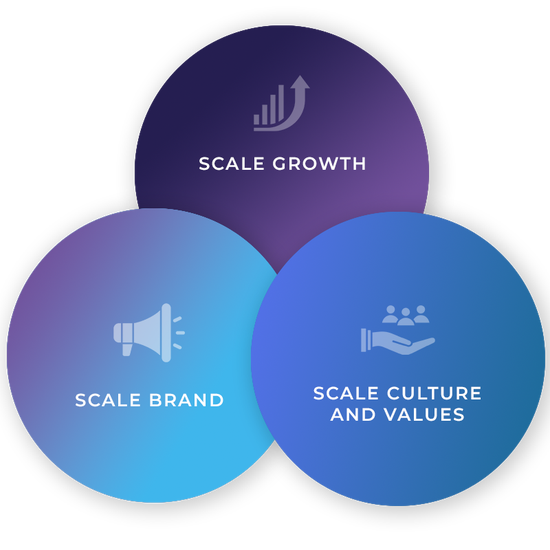 Scaling predictable growth
Our next milestone is to accelerate revenues and hit our goal of $100M+ in annual recurring revenues (ARR) in the coming years.
The recent funding from Goldman Sachs for our Series-C round gives us a multi-year runway with an extremely strong balance sheet to execute.
My goal will be to make prudent investments, working closely with Faiyaz Shahpurwala, Shashi Kiran, Anand Balasubramanian, and other leaders across the company to scale our go-to-market function and optimize it to meet the needs of the business.
While there are uncertainties for everybody in the macroeconomic conditions, I'm confident that we will scale growth predictably and with the right structure and investments.
Scaling the Fortanix brand
Today, securing data is a C-level conversation with multiple stakeholders including CISOs, Chief Data Officers, CEOs as well as the board.
Fortanix has a compelling technology solution and must become better known in the industry. We found that when a customer becomes aware of Fortanix, we rarely lose a deal, as our value proposition is very powerful, creating a win-win scenario.
Even after becoming Fortanix customers, they continue to like our solution, resulting in a high net dollar retention (NDR), expansion, and peer references, as evidenced by the Gartner peer Insights program.
Our goal is to raise the company profile in the market for easier recall and let the goodness out of the box, literally speaking. Brand recognition is never an easy element to quantify, but we will make prudent marketing investments here, including with our channel and alliance partners.
Scaling culture and values
No company can succeed without its people. The knowledge-driven world we live in thrives on empowerment, where ideas thrive best from those that originate them, regardless of the function.
I believe in empowerment with accountability. This breeds a true sense of ownership. Legendary management consultant Peter Drucker wrote that "culture eats strategy for breakfast".
This is something I've always been personally passionate about – to develop a culture based on a value system that our employees, customers, and partners resonate with and feel proud to be a part of.
Companies that don't get this right are often constrained for growth and run out of steam quickly. This must be participative. To this end, I'm also undertaking a "listening tour" with the CEO hat on, meeting with employees, customers, and partners.
In parallel, I will work closely with my leadership team to bring this to life and sustain us over the coming years.
Onwards and upwards!
Finally, while we have audacious goals and ambitious dreams, I fully realize that none of this can be accomplished alone, no matter what my title is. I will be leaning on the employee base (we're hiring!) and our ecosystem to help us truly scale up to our potential.
Together, if we could unleash our human potential and combine that with our innovation engine as a company, there's magic and miracles in the making.
I seek help from one and all to make this happen.
Share this post: