Fortanix Presenting at 2018 RSA Conference | Press Releases
Fortanix today announced that it has been selected to present in the session Protecting Containers from Host-Level Attacks at the 2018 RSA Conference next week.
MOUNTAIN VIEW, California, April 10, 2018
Fortanix® Inc., the leader in Runtime Encryption, today announced that it has been selected to present in the session Protecting Containers from Host-Level Attacks at the 2018 RSA Conference next week.
Fortanix CEO and Co-Founder Ambuj Kumar will join renowned cryptography expert Benjamin Jun, CEO of HVF Labs, and Docker Security Lead David Lawrence in the session that describes how Runtime Encryption® and Intel® SGX keep a container encrypted during runtime to protect data in use from host OS, root users and network intruders, even if the infrastructure is compromised. The session will take place on April 17 from 3:30 pm PDT – 4:15 pm PDT.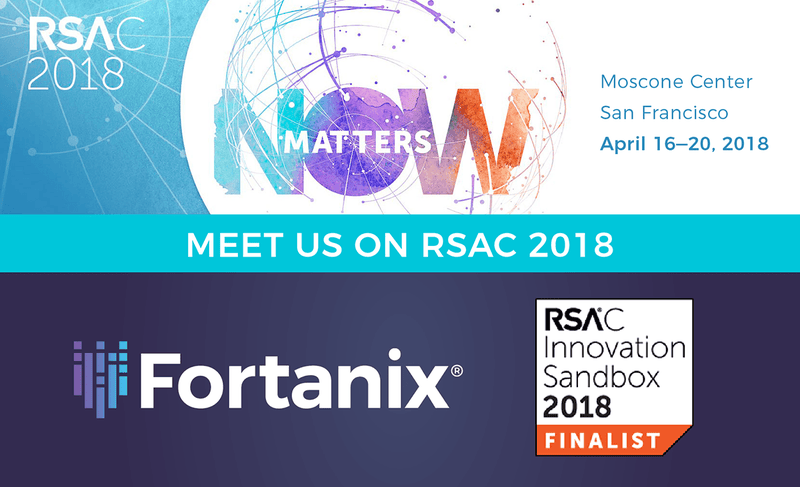 In addition, Fortanix is one of 10 finalists for the 2018 RSA® Conference Innovation Sandbox Contest. The contest will begin on April 16 at 1:30 pm PDT at the Marriott Marquis in the Yerba Buena Ballroom. Fortanix will present to a panel of industry veteran judges and a live audience in a three-minute quick-pitch, competing for the coveted title of "Most Innovative Start Up," with the winner being announced at 4:30 pm PDT.
Also, Fortanix will participate with partner Intel discussing and showcasing demos of Fortanix Runtime Encryption® solutions leveraging Intel® SGX in the Intel booth #3435 (North Hall). Those visiting the booth can watch a brief demo to learn about innovations in cloud security that can help organizations securely adopt the cloud even for sensitive workloads, or unlock new value for sensitive data assets. Fortanix Runtime Encryption® Platform transparently protects apps and data in use. Its Self-Defending Key Management Service™ (SDKMS) delivers next-generation hardware security module (HSM) and Key Management to secure any app in any cloud.
Finally, Fortanix will join partner Equinix to discuss Equinix SmartKey™, powered by Fortanix, in the Equinix Booth #2440 (South Hall), and conduct immersive demos. SmartKey is a global key management and encryption Software as a Service (SaaS) offering that simplifies data protection across any cloud or destination.
Last year, Fortanix introduced its Self-Defending Key Management Service™ (SDKMS) supporting Full NSA Suite B cryptography. Fortanix continues to rapidly enhance SDKMS, introducing new encryption capabilities for Derived Unique Key Per Transaction (DUKPT) for payments, format preserving encryption, blockchain-based schemes, and enhancements to automate "Bring Your Own Key" integrations with SaaS and Cloud providers, including Google Cloud Platform, Azure and AWS. Fortanix Runtime Encryption® Plugins further empower security architects and application owners to develop and protect custom code or business logic in an easy-to-use and agile manner. With Equinix SmartKey, powered by Fortanix, organizations can develop and deploy Plugins at the speed of SaaS.
"SDKMS helps organizations with cryptographic agility by enabling them to adapt to new cryptography schemes," said Anand Kashyap, Fortanix co-founder and CTO. "SDKMS is based on a future-proofed software-defined architecture, offers high level extensible interfaces, and allows customization with Runtime Encryption® Plugins. Plugins are easy to develop, configure and consume, and we are seeing strong customer adoption of this unique capability."
Those interested are encouraged to book a meeting in advance with company experts at RSA using the following link https://calendly.com/fortanix-rsa/meet-us/04-16-2018.
About Fortanix
Fortanix delivers provable deterministic security to organizations by offering the industry's only Runtime Encryption. While today's encryption technologies protect only data at rest and data in motion, Runtime Encryption® keeps keys, data and applications completely protected while in use from external and internal threats, including insiders, cloud providers, government subpoena, OS-level hacks and network intruders. Fortanix uses Intel® SGX, Intel TXT, and other technologies for real-time encryption with no performance impact. Headquartered in Mountain View, Calif., the company is backed by Foundation Capital and NeoTribe.
Fortanix and Runtime Encryption are registered trademarks of Fortanix, Inc. Fortanix Data Security Manager is a trademark of Fortanix, Inc. All other marks and names mentioned herein may be trademarks of their respective companies.
FIPS 140-1 and FIPS 140-2 TM: A Certification Mark of NIST, which does not imply product endorsement by NIST, the U.S. or Canadian Governments
Share this post: