Fortanix Extends Capabilities of Runtime Encryption® to Python and R based Applications to Enable Secure Data Analysis and Machi
Developers and Data Scientists Can Now Develop New Techniques for Analysis and Machine Learning Using Sensitive Data without Compromising Confidentiality
MOUNTAIN VIEW, California, June 20, 2018
Fortanix® Inc., the leader in Runtime Encryption, today announced it has extended the capabilities of the industry's first and only Runtime Encryption® Platform to secure Python- and R-based applications that have widespread use in the data science community. As a result, developers and data scientists can now train artificial intelligence (AI) and machine learning (ML) algorithms leveraging sensitive data as inputs without compromising on the confidentiality of the data.
Fortanix Runtime Encryption, leveraging Intel® Software Guard Extensions Intel® SGX, enables secure exchange of data for the necessary training of machine learning models, as well as its secure execution inside SGX enclaves. Some of the most transformative benefits of AI can come from its application to industries such as healthcare, automotive and financial services, but one of its inhibitive factors has been lack of strong controls to protect personal sensitive and private datasets that are necessary inputs to train the models. Runtime Encryption® provides a security framework to ensure that the sensitive data remains confidential even when in use.
"Runtime Encryption, using Intel® SGX, delivers new levels of security for applications in the cloud, and protecting the confidentiality of sensitive data for AI apps is yet another exciting example," said Ambuj Kumar, co-founder and ex CEO of Fortanix. "Runtime Encryption® ensures confidentiality of data and secure execution enabling a new class of AI apps for healthcare, financial services and other sectors dealing with confidential information."
"It is exciting to see how Fortanix continues to innovate and is helping to address the data privacy and security challenges of new workloads like AI," said Rick Echevarria, Vice President, Software and Services Group and General Manager, Platforms Security Division at Intel Corporation. "By utilizing hardware-secured technologies, such as Intel® Software Guard Extensions (Intel® SGX), mutual customers can enhance protection of their sensitive data and algorithms."
Fortanix Runtime Encryption® now supports container-based Python applications as well as applications that are developed using R language. Python is a more full-fledged programming language, whereas R is popular in data science and statistical modeling with extensive use in healthcare and financial services. Runtime Encryption® can protect the applications without requiring modifications.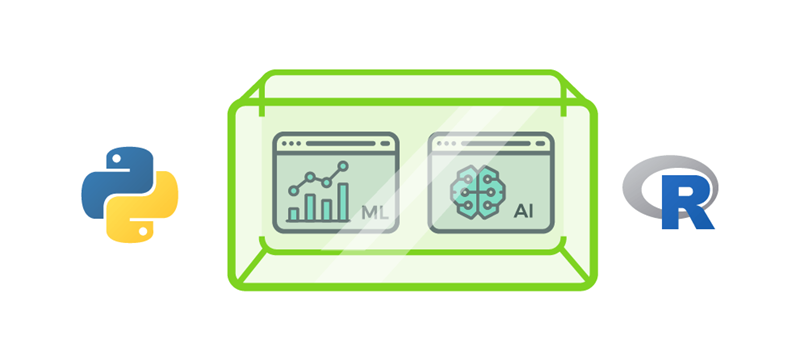 "GeneTank is pleased to collaborate with Fortanix to enable secure computation for Bioinformatics," said Anne Kim, CEO, GeneTank. "Fortanix Runtime Encryption® supports our vision of enabling a secure and transparent marketplace for genetic and health algorithms and AI services."
"iExec sees tremendous potential in leveraging Blockchain to increase the effectiveness of AI," said Lei Zhang, Security R&D manager, iExec. "We are very pleased to collaborate with Fortanix to secure Blockchain-based decentralized computing. Fortanix Runtime Encryption® can ensure that an iExec DApp built using R can be deployed with a privacy token that remains completely protected."
View a demonstration of secure Python- and R-based AI and ML applications. Those interested in using Runtime Encryption® to protect their Python- and R-based applications are encouraged to contact us.
About Fortanix
Fortanix delivers provable deterministic security to organizations by offering the industry's only Runtime Encryption. It has been selected by leading partners, including to power Equinix SmartKey™ HSM-as-a-service. While today's encryption technologies protect only data at rest and data in motion, Runtime Encryption® keeps keys, data and applications completely protected while in use from external and internal threats, including insiders, cloud providers, government subpoena, OS-level attacks, and network intruders. Fortanix is venture backed and headquartered in Mountain View, Calif.
Fortanix and Runtime Encryption are registered trademarks of Fortanix, Inc. Fortanix Data Security Manager is a trademark of Fortanix, Inc. All other marks and names mentioned herein may be trademarks of their respective companies.
FIPS 140-1 and FIPS 140-2 TM: A Certification Mark of NIST, which does not imply product endorsement by NIST, the U.S. or Canadian Governments
Share this post: