Fortanix Launches Native Rust-based Software Development Kit for Intel® SGX Applications
Fortanix's Open Source Enclave Development Platform Enables Developers to Easily Create Complex and More Secure Applications Leveraging Rust's Built-in Functionalities
SAN FRANCISCO (RSA Conference 2019, booth No. 4518), March 4, 2019
Fortanix® Inc., the Runtime Encryption® company, launched its Enclave Development Platform (EDP) today at the RSA Conference 2019. The Fortanix EDP provides a native Rust-based SDK to write Intel® Software Guard Extensions (Intel® SGX) enclaves. EDP allows developers to leverage Rust's built-in functionalities to help create more secure applications.
The Fortanix EDP is an open source SDK that uses the state-of-the-art security properties of the Rust language and Intel SGX to deliver a more secure application development platform. The new Fortanix EDP is being unveiled this week and demonstrated in the Fortanix RSA booth 4518 and Intel RSA booth 6173.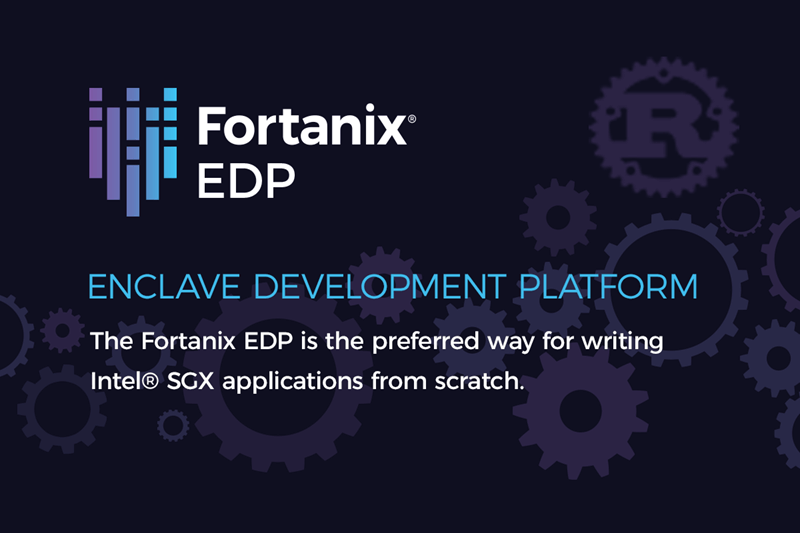 The Fortanix EDP is fully integrated with the Rust compiler, which allows developers to immediately use new features including non-lexical lifetimes, futures and async/await syntax, and improved compile-time speeds. Due to Rust's stability, old code will continue to work after the compiler is upgraded. The open source licensing of the Fortanix EDP allows developers to build and sell or distribute the applications they create.
"Fortanix delivers hardened enclaves and a new level of deterministic security based on the hardware-based protections of Intel SGX," said Ambuj Kumar, Co-Founder and ex CEO of Fortanix. "By leveraging Rust we are extending the protection used by multiple F100 companies to developer environments. Developers are looking for solutions that deliver deterministic security since systems are always under attack. The combination of Intel SGX, Fortanix and Rust delivers these capabilities for them."
"Intel works to not only constantly deliver silicon security innovation to market – but also to make it easier for developers to adopt security innovations like Intel SGX to help improve the security of their solutions," said Jim Gordon, GM of Ecosystem, Business Development, Strategy & Communication at Intel Corporation. "With Fortanix open source Enclave Development Platform using a common development language like Rust, developers can build their own differentiated solutions with Intel SGX."
Fortanix is helping solve today's cloud security and data privacy problem. By decoupling security from the infrastructure, Fortanix removes complex and intractable security challenges experienced with current solutions. Secure enclaves delivered with Fortanix's patented Runtime Encryption® technology and Intel® SGX deliver a new level of deterministic security on premise, in hybrid environments, and on remote clouds, helping keep data encrypted and protected even when systems are compromised.
Availability and Pricing
The Enclave Development Platform is available today for free from Fortanix.
About Fortanix
Fortanix's mission is to solve cloud security and privacy challenges. Fortanix allows customers to securely operate even the most sensitive applications without having to trust the cloud. Fortanix provides unique deterministic security by encrypting applications and data everywhere – at rest, in motion, and in use with its Runtime Encryption® technology built upon Intel® SGX. Fortanix secures F100 customers worldwide and powers IBM Data Shield and Equinix SmartKey™ HSM-as-a-service. Fortanix is a venture backed Gartner Cool Vendor headquartered in Mountain View, Calif.
Fortanix and Runtime Encryption are registered trademarks of Fortanix, Inc. Fortanix Data Security Manager is a trademark of Fortanix, Inc. All other marks and names mentioned herein may be trademarks of their respective companies.
FIPS 140-1 and FIPS 140-2 TM: A Certification Mark of NIST, which does not imply product endorsement by NIST, the U.S. or Canadian Governments
Share this post: