Overview
Microsoft Azure is one of the most widely adopted cloud infrastructure platform. It is critical that organizations get the highest levels of data security to confidently migrate to cloud and meet compliance regulations. Fortanix offers security offerings for the Azure cloud platform that allows Azure customers to protect their most sensitive data and securely migrate data to cloud.

Fortanix gives Azure customers an additional layer of comprehensive protection for their data and applications throughout its lifecycle – at rest, in-transit and in use.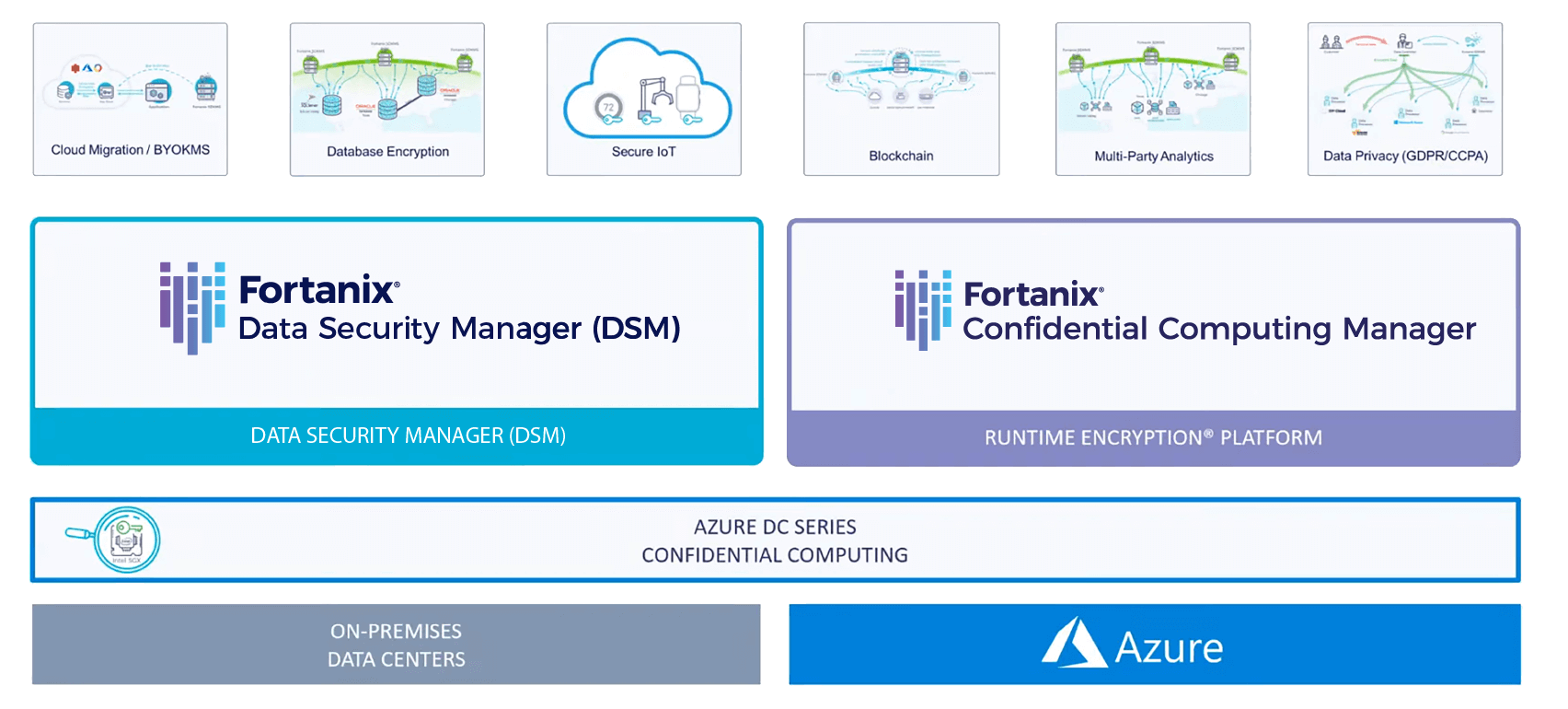 Why Fortanix Solutions for Azure?
Unified security across clouds and hybrid environments
Fortanix capabilities support cloud migration by giving organizations unmatched flexibility by efficiently managing keys, secrets, and tokens across public cloud and hybrid environments from a single, unified platform.
Ensure compliance
Many regulated industries including financial services, healthcare, and retail require that encryption keys be stored in FIPS 140-2 Level 3 validated HSMs. Unlike cloud-native key management services, Fortanix provides FIPS 140-2 Level 3 protection for all encryptions keys, secrets, and tokens, enabling regulated industries to move sensitive data to the public cloud without risking compliance.
Get greater control over cloud keys with Azure BYOK
Fortanix offers a Key Management System that allows organizations to Bring Your Own Key (BYOK) for Azure cloud. With this approach customers bring or import their own master key (CMK), which Azure can store in their key management system (KMS). and encrypt all Data Encryption Keys (DEKs) under that key. This provides customers with greater control over data and keys.
Unlock the power of confidential computing with Intel SGX on Azure
Fortanix DSM and Fortanix CCM run on Azure Confidential Computing DC series Intel SGX VMs/DCsV2-series of VMs.  Fortanix products and Azure Confidential Computing are built on the security capabilities of Intel® Software Guard Extension (Intel® SGX), including the recently announced Ice Lake 3rd Gen Intel® Xeon® Scalable processors. Intel® SGX enables hardware-secured trusted execution environments that can be used to protect data in use, at rest, and in motion while preventing unauthorized access by a cloud provider, administrator, or user.
Consume easily from the Azure Marketplace
Fortanix Data Security Manager and Fortanix Confidential Computing Manager are both available in the Azure Marketplace and can be easily consumed.