Monthly Newsletter
September2023
Dear Data Security Enthusiast,
In an era where data security is paramount, we're excited to share insights that not only elevate your understanding but also empower your organization's defenses. Dive into this month's newsletter to explore the intricacies of zero-trust security from tokenization techniques to the tales of a CISO navigating the challenges of key lifecycle management. Together, let's champion a safer, more secure digital future.
Ron Longo
CRO, Fortanix

Data Security is a Team Sport
Join Justin Lam, research analyst at S&P Global Market Intelligence, and our very own Troy Paradiso, global head of systems engineering, as they discuss how data security concerns all business units in an organization. This webinar will cover:
How to accelerate business innovation (e.g., cloud, AI, etc.) while balancing security controls and agility?
How to govern data access controls that address risk models such as zero trust and emerging post-quantum cryptography?
How do security, data, and DevOps teams, already constrained on resources, efficiently manage controls such as tokenization, secrets management, and Enterprise Key Management?
Join us on Wednesday, October 11 at 9 AM PDT / 12 PM EDT / 5 PM BST as we'll help you enable all the players in your extended data security team.
Tokenization: Make data portable and win at Zero Trust
Learn how format-preserving encryption or tokenization provides strong data security and simplifies sharing data with downstream applications with minimal risk. We will highlight real-world use cases of modern organizations containing sensitive data flowing between clouds and data centers and the challenges they face in enforcing zero trust data privacy and security regulations.
During this webinar, we will address how tokenization will help you:
Keep data private and limit risk
Simplify compliance challenges
Analyze and find meaning in encrypted data
Deploy Zero Trust principles at the data level
Fortanix Mask-arade
Put on your mask and discover the industry's first SaaS Tokenization and Data Masking solution, powered by Confidential Computing.
At the event, you will:
Hear from Fortanix and our Partners on how to keep private data secure, wherever it is.
Catch a live demo.
Have the opportunity to ask questions.

Till breach do us part: A CISO's guide to credit card tokenization
Planning and implementing an enterprise KMS
Managing key lifecycle for enterprise: A CISO's story of a global bank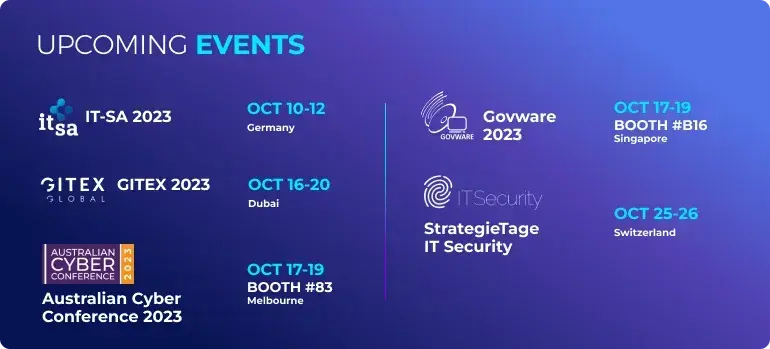 Join Us At IT-SA 2023
When: Oct 10-12, 2023
Where: NürnbergMesse, Messezentrum, 90471 Nürnberg, Germany
Join Us At GITEX 2023
When:Oct 16-20, 2023
Where:Dubai World Trade Centre, UAE
Join Us At Australian Cyber Conference 2023
When:Oct 17-19, 2023
Where:Melbourne
Booth:#83
Join Us At Govware 2023
When:Oct 17-19, 2023
Where:Singapore
Booth:B1683
Join Us At StrategieTage IT Security
When:Oct 25-26, 2023
Where:The Dolder Grand, Kurhausstrasse 65, 8032, Zürich, Switzerland

Applying Zero Trust Principles to Data Security
This white paper shows how to implement the Zero Trust Maturity Model data pillar recommendations from the US Cybersecurity and Infrastructure Security Agency (CISA). Although tailored explicitly for US federal agencies, any organization would benefit from adopting the approaches outlined in this framework to lower their cybersecurity risk.