Fortanix Named a 2018 Cool Vendor by Gartner | Press Releases
Vendors Selected for the Cool Vendor Report are Innovative, Impactful and Intriguing
MOUNTAIN VIEW, California, May 9, 2018
Fortanix® Inc., the leader in Runtime Encryption, today announced it has been named a Cool Vendor in IoT Security in a report by Gartner, Inc. 1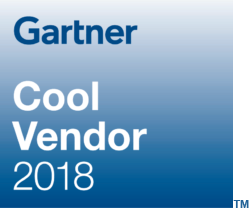 Fortanix is a pioneer in Runtime Encryption® technology to protect data in use, and its first application Self-Defending Key Management Service (SDKMS) leverages Runtime Encryption® and Intel® SGX. SDKMS delivers HSM-grade security with software-defined simplicity with the ability to scale to the needs of modern enterprise IoT and cloud deployments. Fortanix offers deterministic security even when root credentials and cloud infrastructures are compromised.
According to Gartner, "The ability to encrypt main memory with customer-controlled keys will be useful in cloud environments when handling both secrets and concerns about main memory being physically accessed, captured by another virtual machine (VM) or snapshotted." 1
"We see being named a Gartner Cool Vendor as continuing the tremendous industry validation we've seen this year," said Ambuj Kumar, Fortanix co-founder and ex CEO. "Fortanix's unique approach in applying Runtime Encryption® to deliver deterministic security is gaining strong traction with customers. Fortanix is successfully helping organizations across a trio of compelling use cases – secure cloud adoption, trust in connected IoT devices, and GDPR data privacy compliance."
Fortanix SDKMS establishes a chain of trust for IoT devices from birth in manufacturing through the entire lifecycle in the field from provisioning to upgrades to decommissioning. SDKMS's scale-out architecture can handle billions of keys and devices as well as support distributed deployment models, including edge cloud environments. For more information, download the Secure Manufacturing solution brief.
Since launching from stealth mode less than a year ago, Fortanix has already been selected by a number of customers and partners, including to power Equinix SmartKey™ HSM-as-a-service. The solution delivers unified HSM and Key Management capabilities, enabling organizations to make a secure and seamless transition to hybrid and multi-cloud.

Fortanix hosted a webinar on Runtime Encryption® vision and HSM solutions for IoT devices and secure cloud adoption.
Gartner subscribers and clients can access the report here.
Note 1: Gartner, Inc., "Cool Vendors in IoT Security" by Saniye Burcu, Neil MacDonald, Deborah Kish, et al, April 26, 2018.
Required Disclaimer
Gartner does not endorse any vendor, product or service depicted in our research publications, and does not advise technology users to select only those vendors with the highest ratings or other designation. Gartner research publications consist of the opinions of Gartner's research organization and should not be construed as statements of fact. Gartner disclaims all warranties, expressed or implied, with respect to this research, including any warranties of merchantability or fitness for a particular purpose.
About Fortanix
Fortanix delivers provable deterministic security to organizations by offering the industry's only Runtime Encryption. It has been selected by leading partners, including to power Equinix SmartKey™ HSM-as-a-service. While today's encryption technologies protect only data at rest and data in motion, Runtime Encryption® keeps keys, data and applications completely protected while in use from external and internal threats, including insiders, cloud providers, government subpoena, OS-level attacks and network intruders. Fortanix is venture backed and headquartered in Mountain View, Calif.
Fortanix and Runtime Encryption are registered trademarks of Fortanix, Inc. Fortanix Data Security Manager is a trademark of Fortanix, Inc. All other marks and names mentioned herein may be trademarks of their respective companies.
FIPS 140-1 and FIPS 140-2 TM: A Certification Mark of NIST, which does not imply product endorsement by NIST, the U.S. or Canadian Governments
Share this post: