There's nothing more unsettling than the thought of losing access to the security system that protects your valuable data. Unfortunately, that is happening to users of Vormetric - a popular legacy data security platform.
In case you haven't heard the news yet, Vormetric is officially going end-of-life (EOL) effective June 20, 2024, and if you're one of their users, it's time to start thinking about a replacement.
So, what does this mean for you and your sensitive information? Buckle up because we're about to dive into the details.
But first, let's look at how HSMs cost you more than their purchase price.
Inflated Costs

:

Each agent or connector, a software component that integrates the HSM with other applications or services, can add up costs quickly, especially as your application portfolio expands. The price is further multiplied when dealing with containers.

Managing Multiple Products:

With different interfaces and hardware platforms, managing single-function software can become a logistical challenge, resulting in high operational overhead.

Vulnerable Data:

Protecting data becomes difficult and expensive when it requires robust security measures, which can be resource-intensive. Because of costs, it is often left unprotected, creating an entirely new set of potential costs from data loss or breaches.

Lack of New Capabilities:

Here's an important question: How in-line is your HSM with current cloud-delivered services and requirements? The absence of new and creative features in standalone HSMs currently available from vendors. The HSM market has become stagnant, and vendors are not doing enough to develop improved and unified platforms for data security
The above limitations clearly indicate that organizations must move to cost and performance-effective data security solutions.
The migration path should help organizations transition smoothly to a new solution without disrupting their operations.
Think Beyond HSMs: Stay Ahead of the Curve
Business infrastructure becomes more sophisticated each day, and organizations need to keep up. If you think Hardware Security Modules (HSMs) alone are enough to safeguard your data encryption and key management, think again! Just one security feature will not suffice.
It's time to modernize HSM capabilities. A unified data security platform provides a holistic approach to data security, enabling organizations to address multiple security challenges with a single solution.
With data encryption, access controls, and threat detection, a unified platform offers complete protection against cyber threats. It also ensures compliance with data protection regulations such as GDPR, HIPAA, and PCI DSS.
Moreover, a unified platform simplifies data security management, reducing the administrative burden on IT teams.
Challenges when migrating to a new data security solution
Complexity: The complex nature of modern IT environments means that compatibility issues can rear their ugly head, and the costs of investing in new hardware and software can be daunting.

Loss of Data: There's also the genuine risk of data loss or corruption during migration, a nightmare scenario for any organization.

Time-Consuming- On top of all this, the planning and execution of a migration can be time-consuming and resource-intensive. Organizations cannot rip off the existing infrastructure and plant a new one in a day. The process is gradual and requires stepwise supervision.

Compliance: And most importantly, compliance is also a key concern. Nobody wants to run afoul of regulations or industry standards, as the consequences can be severe.
Migrate seamlessly with Fortanix HSM Gateway
Fortanix has a great solution to these challenges when migrating to a new data security solution. Fortanix HSM Gateway, an extension to the Fortanix Data Security Manager (DSM), offers a modern approach to data security.
It connects to your old security systems (HSMs) and allows you to manage keys easily using the Fortanix platform.
The keys stay secure in your old system, but your applications and databases can now access them from one central location, whether you're on-premises or in the cloud.
This makes it simple for security teams to monitor and manage everything from one dashboard.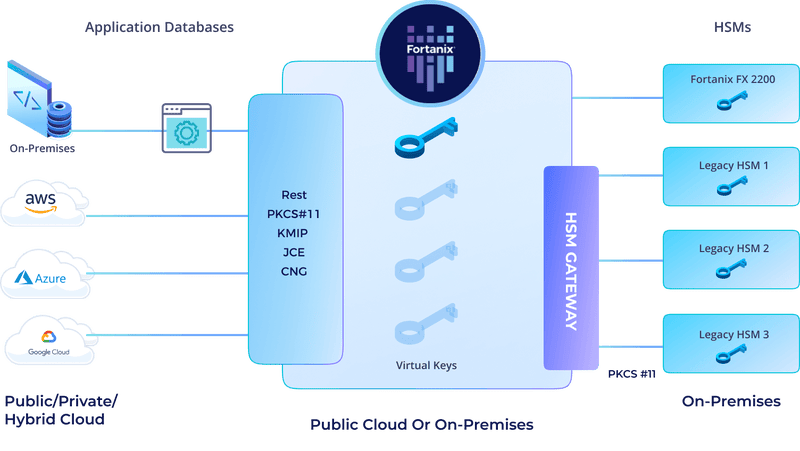 Fortanix Data Security Manager
Fortanix Data Security Manager delivers HSM, Key Management, Encryption, Tokenization, Public Key Signing and Verification, and other security capabilities for your hybrid and cloud-native applications, all from the same integrated solution. It has FIPS 140-2 Level 3 certified hardware that offers complete key secrecy. And with Fortanix Confidential Computing technology powered by Intel® SGX secure enclaves, data always remains secure across its lifecycle- at-rest, in-transit, and in-use. It means Security, wherever your data is.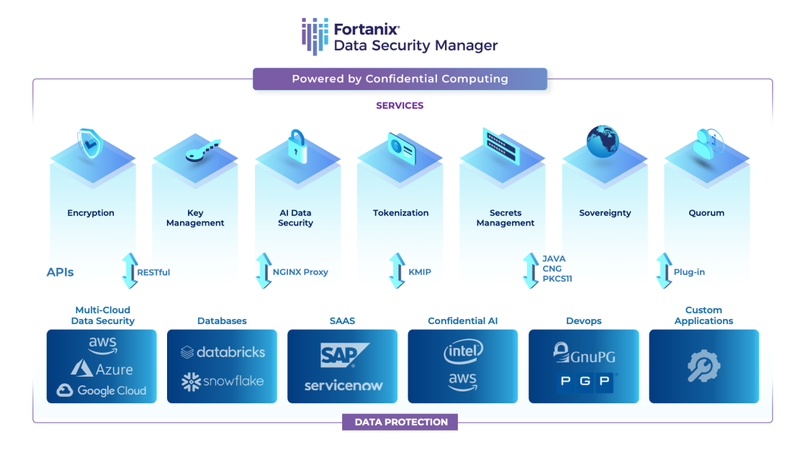 Here's the best part. You can also use the SaaS option. With zero upfront costs and no hardware or software maintenance required, you can start using it right away. Integration with your current apps is made easy with REST APIs, so you won't have to spend days learning a new system. Plus, scalability won't be an issue with the ability to add free and unlimited keys, applications, and groups. And as your company grows and new use cases arise, the DSM SaaS Plugin feature ensures that the system will future proof your investment.
Benefits Using Fortanix Solution
Seamless Integration: The HSM gateway is non-disruptive and allows your existing applications and databases to continue using the keys and HSM already in use. This means no downtime or delays and a hassle-free experience for your organization.

Unified Data Security: New applications can easily access

crypto services using RESTful APIs

, making data security easier to manage and implement.

Cloud-Ready Solution: Designed to work seamlessly with on-premises, public cloud, or hybrid cloud applications, making it a versatile and flexible solution.

Investment Protection: Your organization has invested a lot of money in HSMs. The Fortanix HSM Gateway allows you to keep using the existing HSMs as long as needed.

Predictable Pricing: You pay only for the necessary infrastructure and use as much as you need. There are no additional charges for agents, connectors, applications, or keys, making pricing predictable and transparent.

Future-Proof: Provides

integrated encryption services

,

secrets management

, and tokenization, expanding the data security platform to address customer needs beyond HSMs. This means you can rely on Fortanix to

stay ahead of the curve

and meet evolving security needs.
So, if you're ready to take your data security to the next level, we have the perfect way to get started. All you have to do is connect with our team and take advantage of our free trial offer.
That's right; you can test and verify our solution on your infrastructure absolutely free of charge. This is your chance to see the results for yourself and learn why data security is so much more than just deploying a standalone HSM.
Share this post: