Fortanix and Saudi Information Technology Company (SITE) Partner to Deliver Revolutionary Multicloud SaaS Data Security Offering to the Saudi Arabian Market
Fortanix's confidential computing powered technology would be available as a jointly branded managed SaaS offering, with a new data sovereignty region dedicated to the Kingdom of Saudi Arabia
SANTA CLARA, Calif., July 26, 2023
Fortanix® Inc., the innovative multi-cloud data security company and the pioneer of Confidential Computing, and the Saudi Information Technology Company (SITE), a PIF-owned, prominent cybersecurity and cloud provider and systems integrator, today announced a new partnership that will bring Fortanix's revolutionary data security platform to the Saudi Arabia and Middle East market. Based on its flagship Data Security Manager (DSM) offering, Fortanix's Confidential Computing-run technology will be available exclusively as a managed SaaS offering powered by SITE, with a new data sovereignty dedicated region based in the Kingdom of Saudi Arabia to serve MENA clients.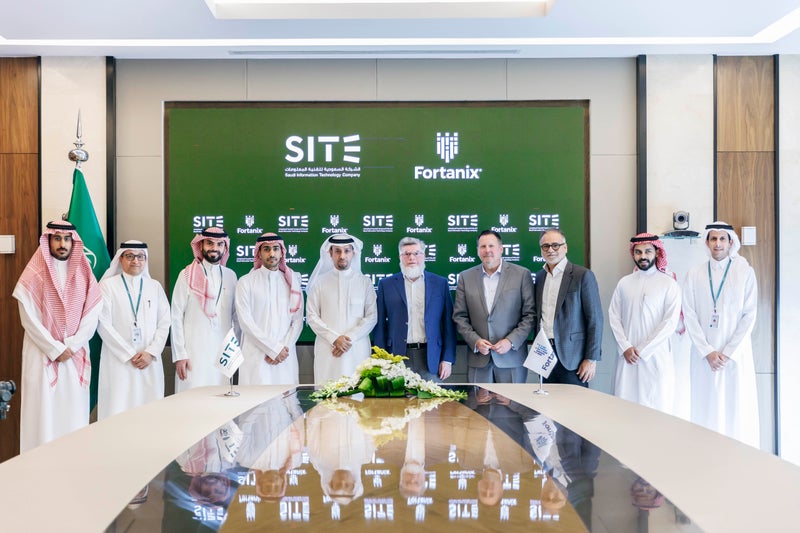 Fortanix and SITE together plan to roll out a variety of data security solutions including multicloud key management, tokenization and data masking, secrets management, HSM-as-a-service etc. For enterprise and government customers that deal with sensitive data, data sovereignty issues and are subject to regulatory compliance. One of the first services to be rolled out would be with the Google Cloud External Key Manager (EKM).
"SITE is excited to partner exclusively with Fortanix to deliver world-class solutions to our clients in the region. We have had the "secure-by-design" principle deeply embedded in all our offerings since SITE's inception, and with Fortanix's leading-edge data security solutions, we will establish a dedicated cloud solution with even more outstanding value," said Majed Alamri, chief business solutions officer at SITE. "We believe this solution will be compelling to our clients and help further accelerate our growth in the region."
"We could not have asked for a better strategic partner than SITE to serve the customers in the Saudi Arabian and Middle East market," said Faiyaz Shahpurwala, chief product, and strategy officer at Fortanix. "We have established a strong track record with some of the world's largest enterprises and government customers with our industry-leading SaaS offering and our Data Security Manager platform. We are honored to do the same with services tailored to this highly strategic region, while fully complying with data sovereignty and security requirements."
Specifically, the localized Fortanix's DSM SaaS benefits include:
Comprehensive data security:

End-to-end data security, including cloud-friendly encryption, key management, and tokenization​ from a single integrated platform.

Converged security management:

A web-based user interface with enterprise-level access controls and single sign-on (SSO) support.  

Unmatched security standards:

Fortanix DSM SaaS is the first 

multi-cloud data security service

certified to the rigorous FIPS 140-2 Level 3 security standard. 

Locally powered Confidential Computing.

The SITE Cloud-localized platform runs on Confidential Computing hardware, which provides the customers with the highest level of security.
For more information on Fortanix's capabilities, visit https://www.fortanix.com.
About Fortanix
Fortanix secures data, wherever it is. Fortanix' data-first approach helps businesses of all sizes to modernize their security solutions on-premises, in the cloud and everywhere in between. Enterprises worldwide, especially in privacy-sensitive industries like healthcare, fintech, financial services, government, and retail, trust Fortanix for data security, privacy and compliance. Fortanix investors include Goldman Sachs, Foundation Capital, Intel Capital, In-Q-Tel, Neotribe Ventures and GiantLeap Capital. Fortanix is headquartered in Santa Clara, CA. For more information, visit https://www.fortanix.com.
About SITE
Saudi Information Technology Company (SITE) is a national company established in 2017 and wholly owned by the Public Investment Fund (PIF). SITE contributes through its national capabilities and international partnerships to the development of secure-by-design, innovative products, services and solutions in cybersecurity, cloud computing, enterprise optimization, and human capital development. For more information, visit https://site.sa.
Fortanix and Runtime Encryption are registered trademarks of Fortanix, Inc. Fortanix Data Security Manager is a trademark of Fortanix, Inc. All other marks and names mentioned herein may be trademarks of their respective companies.
FIPS 140-1 and FIPS 140-2 TM: A Certification Mark of NIST, which does not imply product endorsement by NIST, the U.S. or Canadian Governments
Share this post: