Monthly Newsletter
August 2023
Dear Data Security Enthusiast,
Coming off a stellar Blackhat 2023 conference, the Fortanix team is energized to share the latest in this newsletter on your most challenging use cases, which this newsletter so wonderfully embodies. From promoting data masking and tokenization to Web3, post-quantum cryptography (PQC), and code signing, there's something in it for all. Globally, our partnership with SITE expands Fortanix's offerings into the middle east. This is now the sixth region for our first-of-its-kind data security SaaS. All this and more... in the August issue!
Shashi Kiran
CMO, Fortanix

The Industry's First Data Masking and Tokenization SaaS Solution Gains Momentum with Adoption Across Fortune 500 and Global 2000 Customers

Fortanix and Saudi Information Technology Company (SITE) Partner to Deliver Revolutionary Multicloud SaaS Data Security Offering to the Saudi Arabian Market

Preparing for Post-Quantum Cryptography
This white paper dives deep into the world of quantum computing, its looming threats to modern data security, and the crucial steps organizations must take to safeguard their sensitive information in the post-quantum era
In this whitepaper, you'll learn:
A brief introduction to quantum computing
The new risks for governments and enterprises
How to prepare for post-quantum cryptography

Tokenization: Make data portable and win at Zero Trust
Learn how format-preserving encryption or tokenization provides strong data security and simplifies sharing data with downstream applications with minimal risk. We will highlight real-world use cases of modern organizations containing sensitive data flowing between clouds and data centers and the challenges they face in enforcing zero trust data privacy and security regulations.
During this webinar, we will address how tokenization will help you:
Keep data private and limit risk
Simplify compliance challenges
Analyze and find meaning in encrypted data
Deploy Zero Trust principles at the data level
Fortanix Mask-arade
Put on your mask and discover the industry's first SaaS Tokenization and Data Masking solution, powered by Confidential Computing.
At the event, you will:
Hear from Fortanix and our Partners on how to keep private data secure, wherever it is.
Catch a live demo.
Have the opportunity to ask questions.
Next-Gen Security Infrastructure For Web3
Join our speakers, Shashi Kiran, Chief Marketing Officer - Fortanix, Pralhad Deshpande, Senior Solutions Architect - Fortanix, Faisal Faruqui, VP Solutions Engineering - Fortanix, and Jaydeep Korde, Co-founder and CEO – Launchnodes, as they discuss enterprise-grade, confidential computing-powered, next-gen security infrastructure for Web3.
Secure Your Cloud Data Without Breaking The Bank
Join our experts, Rob Soh, Sales Engineering, Abhinav Nagpal, Regional Sales Manager, APAC and Aroop Menon, Product Marketing on July 26th, Wednesday, at 10 AM IST / 12.30 PM SGT / 2.30 PM AEST as they walk you through the nitty-gritty of how the Banking & Financial Services sector can enable pervasive, scalable, and dynamic security across clouds with Fortanix.

Why Enterprises Struggle to Meet Data Security Policies
Securing the Key to Microsoft's Kingdom: Enterprise Key Management Best Practices
HSM-as-a-Service: 10 Questions You Should Ask
Securing AI in Healthcare: Addressing the Challenges of Data Privacy and Integrity
Preparing for the Post-Quantum Era: A Comprehensive Guide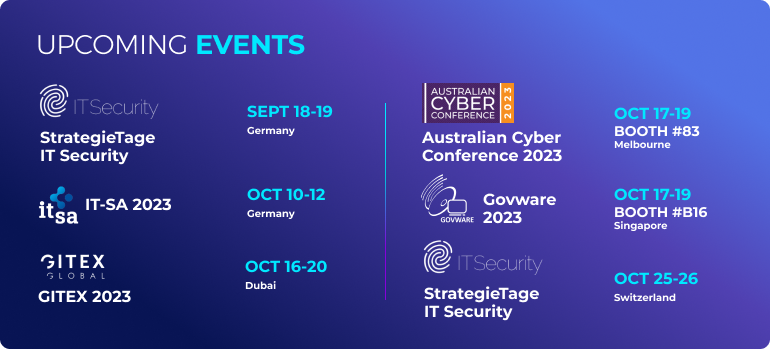 Join Us At StrategieTage IT Security
When: Sept 18-19, 2023
Where: Althoff Grandhotel Schloss Bensberg, Kadettenstraße, 51429 Bergisch, Germany
Join Us At IT-SA 2023
When: Oct 10-12, 2023
Where: NürnbergMesse, Messezentrum, 90471 Nürnberg, Germany
Join Us At GITEX 2023
When:Oct 16-20, 2023
Where:Dubai World Trade Centre, UAE
Join Us At Australian Cyber Conference 2023
When:Oct 17-19, 2023
Where:Melbourne
Booth:#83
Join Us At Govware 2023
When:Oct 17-19, 2023
Where:Singapore
Booth:B1683
Join Us At StrategieTage IT Security
When:Oct 25-26, 2023
Where:The Dolder Grand, Kurhausstrasse 65, 8032, Zürich, Switzerland

Fortanix Tokenization Whitepaper
In this whitepaper, we'll answer:
What is data masking and tokenization?

What are the most common use cases around it?

How can tokenization play a vital role in your data privacy strategy?